David Grisman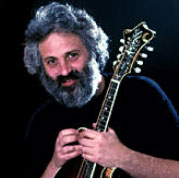 For nearly 40 years, mandolinist/composer David Grisman has been busy creating "dawg" music, a blend of many stylistic influences (including swing, bluegrass, latin, jazz and gypsy) so unique he gave it its own name. In doing so, David has inspired a whole new genre of acoustic string instrumental musicówith style and virtuosity while creating a unique niche for himself in the world of contemporary music.

Dubbed "The Paganini of the Mandolin" by the New York Times, David has been praised for his mastery of the instrument as well as his varied talents as a composer, bandleader, teacher and record producer. After recording for several major labels, Grisman founded his own company, Acoustic Disc, which he runs from his studio in northern California. Upon launching the label in 1990, David entered the most prolific period of his distinguished career, producing 45 critically acclaimed, high quality recordings of acoustic music (five of which have been nominated for Grammy Awards).

David discovered the mandolin as a teenager growing up in New Jersey, where he met and became a disciple of mandolinist/folklorist Ralph Rinzler. Despite a warning from his piano teacher that it wasn't a "real" instrument, Grisman learned to play the mandolin in the style of Bill Monroe, the father of bluegrass music. He took it with him to Greenwich Village where he studied English at New York University and became immersed in the proliferating folk music scene of the early 1960s.

In 1963 Grisman made his first recordings as an artist (the Even Dozen Jug Band - Elektra) and producer (Red Allen, Frank Wakefield and the Kentuckians - Folkways). In 1966, Red Allen offered David his first job with an authentic bluegrass band, the Kentuckians. While studying the music of his bluegrass mandolin heroes like Bill Monroe, Jesse McReynolds and Frank Wakefield, Grisman began composing original tunes and playing with other urban bluegrass contemporaries like Peter Rowan and Jerry Garcia, with whom he would later form Old & in the Way.

David's interests spread to jazz in 1967, while playing in the folk-rock ensemble, Earth Opera. A failed attempt at learning to play the alto saxophone turned him into a lifelong student of jazz musicianship and theory. In the meantime, his burgeoning career as a session musician gave him experience playing various other types of music and opportunities to stretch the boundaries of the mandolin. Today his discography includes recordings with Bela Fleck, the Grateful Dead, Stephane Grappelli, Emmylou Harris, Chris Isaak, Dolly Parton, Bonnie Raitt, Linda Ronstadt, Earl Scruggs and James Taylor.

David's unique instrumental style found a home in 1974 when he formed the Great American Music Band with fiddler Richard Greene. "Nothing against singers," said David, "but it became apparent to me that I could play 90 minutes without one. Besides, Elvis never called." Within that year, Greene moved on to join a pop act, and David met guitar wizard Tony Rice, who moved to California where they started rehearsing a new group, the David Grisman Quintet, which also included bassist/mandolinist Todd Phillips and violinist Darol Anger. The rest is string band history.

Since its auspicious debut in 1976, the DGQ has won numerous polls and awards and has headlined at major jazz, folk and bluegrass festivals around the world. DGQ alumni (including Tony Rice, Mark O'Connor, Mike Marshall and Darol Anger) have gone on to establish successful careers as leaders of acoustic music. Current DGQ members include bassist Jim Kerwin, multi-instrumentalist Joe Craven, flutist Matt Eakle, and Argentine guitarist Enrique Coria.

In 1990, David founded the Acoustic Disc label with his friend and manager, Craig Miller, and two other long-standing friends from New York, Artie and Harriet Rose. To date label has released 45 CDs, including five with Jerry Garcia, all produced or co-produced by Grisman.

David has always been a pioneer. He continues to deeply influenced several generations of musicians through his own musical explorations, and with the blossoming success of Acoustic Disc has helped make artist-owned independent labels a viable force in the modern music business.
---
Q1
Q - I'm very appreciative of all of the work you've done to champion the mandolin. I noticed that you've now started using Tony Pires' "ToneGard". Would you give a few impressions of the ToneGard and how it has affected you're tone and volume? Do you use it all of the time or just in certain situations? Any thoughts on the effect of ToneGard in recording vs. live performance.

A - I've been using Tony Pires' ToneGard for well over a year now and I think it's a wonderful thing. In fact, I had the pleasure of meeting Tony in person recently at a DGQ show in Hanford, CA where he kindly gave my own "dawg" gard. My impression is that by keeping the back of the mandolin from touching one's chest, the instrument is free to resonate more. I notice more highs, more lows, and more volume, which is always nice to have in a live situation. I also use it in recording and find positive results there as well. In fact the only time I don't use it is when I forget to put it on. The only down side, of course, is the extra weight.

Thanks to Tony Pires for a true mando-improvement.
---
Q2
A - Nice to hear from you. Although I've been playing a rather unique Gibson mandolin for the past month, my "main" axe has been my 1922 F-5, which I've had since 1989. When I was struggling with tendonitis in 1978, I asked John Monteleone if he could "arch" the fingerboard of my 1925 "fern" model which I was playing at the time. He obliged, and I got used to it. When I ordered John's new Grand Artist model in 1979, he included that feature. I played that mandolin throughout most of the 1980s. When I got the 1922 F-5 which was completely stock, I loved the sound and decided not to do any alterations.

In regards to the pickguard, it doesn't bother me at all. I like the effect it has on the tone. It seems to act like a bass roll-off switch on a microphone. However, everyone's different and every mandolin is different as well. Whatever works for you is the way to go.

I just got home from playing a benefit gig with my Bluegrass Experience band, and Mike Marshall was there and kindly gave me a copy of his new CD with Chris. I haven't heard it yet, but I'm sure I'll love it. Those guys are incredible!!!

In terms of my own listening, I still love the "old stuff"....and there's so much more of it available today. The new Bear Family Bill Monroe is awesome....more previously unreleased takes of the original blue grass band! And what a book to go with it! Same with the Bear Family Carter Family set....which I also have. There's a great label called Mosaic that has released some fantastic CD sets. I've been listening to the 18-CD complete Nat King Cole Trio set, in addition to sets by Bix Beiderbecke and Frankie Trumbauer as well as an 8-CD Eddie Lang and Joe Venuti set. Great stuff!!!! And beautifully remastered with great booklets.

Sammy Bush and I are nearing completion of our years-in-the-making project, Hold On, We're Strumming! It's mostly Bush/Dawg originals which suit our various ways of playing together, which we're still discovering. It's a blast! We have a real neat twin-mandolin fiddle type number dedicated to our dear friend John, called "Hartford's Real" and a Latin flavored tune called "Intimo". There are various duets with various mando instruments - one called "Swamp Thing" (mandocello/slide mandolin) and another called "Jamgrass 741" (mandolin/octave mandolin). Another called "The Old South" (mandolin/mandola). Then there's the title track which takes soul music into the mandosphere. So far, other musicians include Jack Lawrence and Enrique Coria (guitars) and Jim Kerwin and Sam Grisman (basses) plus a special appearance by drum maestro Hal Blaine. But as they say, it ain't over 'til the Fat Lady sings!

Hopefully this puppy will be out by fall.
---
Q3
Q - David, I noticed on the Grateful Dawg movie that you used a number of different mandos and mandolas. What all do you have in your arsenal at this point in time and how do you decide which instrument you want to use for a given tune?

A - I've got quite a collection of all kinds of mandolins and related instruments....which I've been accumulating for 40 years. Pretty much, I've got everything a guy like me would want. Lyon & Healy, Gibson, Epiphone, Embergher, Gilchrist, Monteleone, etc.... Mandocellos, mandolas, octave mandolas, banjo-mandolins, tenor lutes, tenor guitars....anything that you can tune in 5ths!

Usually the nature of the material will suggest which instrument to use. When I recorded a duet with Enrique Coria I used a Brazilian mandolin. When Old & in the Gray recorded "When the Springtime Comes Again," Herb Pedersen suggested I use a 3-point F-4 like Everette Lilly played on the Lilly Brothers recording of the same tune. So I did.
---
Q4
Q - I think I did some pickin' with you and maybe Andy Statman in the parking lot at Sunset Park, way back in the early to mid 60s. I was just beginning then (63), and one particular thing I remember was learning "Surefire" and playing it down there, and I'm pretty sure it was you, were the only other guy around there that could pick it. I remember thinking "who is that kid" and wishing you lived somewhere around so I could learn more. I don't know if this jogs your memory an but Sunset Park was some great times for us kids hearing a lot of classic bluegrass bands. Thanks for your contributions to the mandolin world.

A - Thank you Dave. You know, I don't remember playing "Surefire" there, but of course, I probably wouldn't. Maybe it was "Hey, Hey, Bartender". In any case, I spent a lot of time trying to figure out many of Bobby Osborne's wonderful licks and tunes. I hope it was me...
---
Q5
Hey Arthur good buddy,

(Arthur's the guy who turned me on to the ToneGard and also a world-class master of Architectural glass - his work also adorns the cover of Mandolin Abstractions).

I'll always be in Frank Wakefield's debt for taking his time to show me much of what he had distilled from Bill Monroe. Frank was the original Monroe expert and knew all of his recorded solos at the time. He really helped me with the Monroe style and of course, with his own things as well. Thank you Frank!!!!!

In 1974 I had the pleasure of introducing Bob Dylan (who had come to me for mandolin lessons 2 weeks earlier) to Bill Monroe (who didn't). It was quite an event. Bill was impressed and pleased and they spontaneously broke into a backstage duet of "I Saw The Light". A true moment to remember. You should have been there...
---
Q6
Q - First, thanks for taking the time to be our guest on Co-mando. I have three questions.

1. I have plans to attend Smilefest at the end of the month in Union Grove, NC, just a few miles from my home. I am particularly excited about this year's lineup because it includes my two favorite musicians, you and Sam Bush. Will you and Sam be playing together at this festival?

2. There has been a discussion on the Co-mando mailing list about having celebrities sign mandolins. There were a wide variety of opinions both pro and con. Do you have an opinion on this and will you autograph my Weber at the mandolin workshop at Smilefest?

3. Can you reflect on your unique style of music? What are some of the influences? How did it evolve?

A - My pleasure. Here's 3 answers:

1. I hope Sam & I get to pick....I guess it depends of our schedules. We usually try to make time for that.

2. I've signed worse (or better) things than mandolins...I usually suggest that I could sign the tailpiece cover. That way they can keep it if they want to sell the mandolin....or vice versa... But if a fan wants me to mutilate his axe.....I aim to please. I'd certainly discourage it on a fine instrument.

3. I've been influenced (hopefully) by everything good that I've heard. My style evolved out of a great appreciation of many musicians and their musics. When Richard Greene and I decided to try and make a go out of playing instrumentally for an entire show, we thought it would be good to have as much variety as possible..I guess I'm still trying to do that. I like to write tunes in different idioms, and usually have lots of ideas on how to arrange them for whatever group I'm playing with. After doing that for nearly 30 years, I guess I have a unique style. I'm still working at it.

Looking forward to mutilating your Weber at Smilefest.
---
Q7
Q - I'm most interested in the pre-Dawg DC days: I missed them, but friends have told me about hearing you with Red Allen (at the Shamrock?). How did you wind up in DC? Who was playing in the area? Were any of the local pickers (other than Frank Wakefield) influential to your developing style?

A - I never lived in DC....just visited. I played with Red for about a year, and met some great pickers during that time. Pete Kuykendall, Charlie Waller, Eddie Adcock and John Duffey as well as Ben Eldridge and Bill Emerson. Also Smiley Hobbs, Bill and Wayne Yates and Jack Cook. Many of them would hang out in Tom Morgan's basement. Great times. I'd say they were all influential, but Frank Wakefield of course made the big mandolin impact.
---
Q8
Q - Here's a couple questions relating to your highly expressive "slow" sub-style, plus a couple others.

1) Years ago, I'd transcribed a bunch of Chubby Wise fiddle solos (some off The Good Old Boys album w/Reno/Wakefied) because I really dug that style of bluesy fiddling. When I put these on the mandolin, retaining as much of the pitch sliding as possible and trying to emulate his dynamics and phrasing, I noticed that the results (especially when tremolo was involved) seemed similar to what you had done on mountain moaners like "Her Name Is Written There", "Cold Rain And Snow" etc.

Is this just coincidence, a direct (conscious) influence in your playing from guys like Chubby Wise or Curley Ray Cline through learning some of their stuff, or something which was more diffuse and absorbed through general osmosis? (I've got Hazel & Alice's CAN'T YOU HEAR ME KNOCKING, which was one of your earliest recordings as a sideman, but which also prominantly features Chubby Wise on fiddle.)

2) I asked this question of John Carlini and Reischman at the 2002 Kaufman Mando kamp on a panelist on "tone", figuring that since they knew you personally they might be able to provide an answer. Your low-volume "scratchy" tremolo, to me, always reminded me of breathy, low-volume sax playing (just at the airflow level that anything less, the reed cuts out). My speculation was that this was "the effect" that you were trying to capture on mandolin. Their answer was, "Might very well be, but you need to ask 'him' yourself." OK, I'm asking - were/are you going after that sax effect?

3) Who are your top 5-10 favorite sax (tenor and/or alto) players, in order?

4) How important is it to have a (friendly) "rival" musician in the band, even though the group has your name on the marquee? By this, I mean someone with a very distinctive sound/vocabulary of their own, who keeps one on the toes and working harder onstage not to be outplayed that particular evening. And is the possible contentiousness worth it in terms of musical synergy, freshness etc.?

A - 1) Chubby Wise is one of my all-time heroes. His expressive fiddle playing is still unequalled and the vibe he gave to the early Monroe Columbia sides is incredible. It was a thrill to meet and record with him back then ('65), and it would be nice to think that something rubbed off. I don't really know. I did try to learn many of his licks and was also influenced by his slippery phrasing....I guess it's in there.

2) That may be the case. I love Ben Webster's breathy tone. But actually, the effect you're referring to is something that I do to make a spooky or mysterious effect. I think it has some genesis in a solo Bill Monroe played on "Blue Grass Stomp" during his week-lontg engagement at the Gaslight Cafe in NYC in 1966. I think this may be available on the Smithsonian "Off the Record" release produced by Ralph Rinzler, who recorded the gigs. He got very quiet at one point and played this haunting little melody all on the G string. I merely added more "whisper".

3) I really don't like to play favorites, so the order is random.

Frankie Trumbauer ("Tram"), Ben Webster, Sonny Rollins, John Coltrane, Paul Desmond, Benny Carter, Coleman Hawkins, Lester Young, Charlie Parker, Johnny Hodges, Adrian Rollini (bass sax), Hsrold Land, and of course, Eric Dolphy.

4) Interesting question. I guess it's very important, if you're a bandleader, to have great talent in your band. I never like to view music as a sport and have always disliked the idea of competition....yet it does have healthy motivational aspects I suppose. The way I've looked at it is, these guys are working for me, playing my music...I want them to hit home runs. If they play great, they make my music all the better. It does keep one on one's toes I reckon. Now how these guys might feel about each other is another story.....
---
Q9
Q - First, thank you David, for all your years of inspired playing. Your work is astonishing and inspiring.

Where does speed and fluidity in mandolin playing come from?
How do you use scales in constructing your solos?
Do you have recommended recordings to listen to?
What should a mandolinist shoot for in practice-learning new songs or technique?
What learning material do you recommend?

A - Thank you for the kind words. I guess speed and fluidity are the result of experience (playing, practicing, working on it) and natural dexterity which some are blessed with. I always like to emphasize that it's more important to play accurately than fast....if you practice slowly and deliberately the speed will come.

The notes of a scale are like colors on a pallet. Sometimes I'll just think in terms of using certain notes of a particular scale, or an actual partial scale or sequence. What I'm more concerned with is creating a melodic motif. Fragments of melodic ideas that I can connect or take somewhere.

Learning new songs will of course expand your technique. And let's remember, technique is not just about velocity and the execution of difficult passages. Technique is about everything — rhythm, tone, timing and taste.

I'm afraid I'm not familiar with most of the recent books and videos. I think if you can learn to transcribe solos, that's a good thing. Also, finding a good teacher who can notice and help you to correct any problems you might be having. A video can't do that. The important thing is to stay busy and interested....so follow your musical muse.
---
Q10
Q - I was at the Albany benefit. I think it's great that you and the rest of the performers were there to help save the music program. Your band sounded great and Sam has made noticable strides in playing since last year's benefit.

I was curious about the 2 point Gibson you were playing. Is it a custom job from Charlie and crew or an older custom?

A - This mandolin (now aka "Lil Pup") is totally unique and, as far as I know, a one-of-a kind prototype or custom Gibson 2-point made in the early 1930s. It has four sound holes, two regular f-holes and two holes near the points which are shaped like commas. I'd never seen one like it or heard of one until I acquired it. It has a rosewood F-5 length fingerboard with the fancy inlay pattern used on the rare early 30s F-10 and F-12 models. I like it alot. It has a very distintive sound and brings out the nonconformist in me.
---
Q11
Q - David, your playing, and the early DGQ, are what inspired me to pick up the mandolin and have had a profound impact on my life. I love just about everything you have done, however, the power/precision of the first two incarnations of the DGQ to this day just blow me away. I have heard that when Tony Rice moved to California ya'll practiced for like 9 months before you ever played a gig. That he was living in somebody's basement and you guys would practice ALL THE TIME. Can you tell us some about that time, about the work you all put in in those first months, what life was like for everyone then ( were you all a little scared this new music might be hard to make a living with) and how all of the players were able to live without gigging for that time. Thanks for doing this CGOW thing.

A - Thanks. Yes, we were a practice band for quite awhile. Actually it started with Todd Phillips (a young mandolin student) and Joe Carroll (jazz bassist who played with the Great American Music Band that Richard Greene and I formed in 1974). Those guys would come over to practice the tunes I was writing. Then one day Todd brought over his friend Darol Anger and it became the four of us.

When I met Tony Rice at a Bill Keith session in 1975 he was very interested in my music. I invited him out for a visit to "rehearse" with us. Shortly after that he decided to give up his job with J.D. Crowe and the New South and moved into my basement. We did practice nearly every day for about 3 months and played our first gig at the Bolinas Community Center. It was sold out and you can hear two of the tunes we played that night on the first volume of DGQ 20. No one in the band was concerned about making a living from this endeavor — they wanted to play this music. They all did other things to pay the bills and they (we) were quite young and the economy was different. I told them I'd split the money equally until I could afford to pay them at least 100 dollars a gig. That's the way it was.
---
Q12
Q - As you seem to be the historian/discographer of Dave Apollon, I'd like to know what you know about his mandolin collection. Do you have any of his old Gibson mandolins?

A - Actually, I recently acquired a 50s F-12 that belonged to Dave. The previous owner contacted me about it. His dad had purchased it from Dave's widow, Danzi, shortly after his death in 1973. He said it was a "practice" mandolin. Through the years I was offered two of his other mandolins, both F-5s. One was called the "Apollon Special", made in the 50s with custom appointments which didn't interest me. I believe that Tom Isenhour owns that in addition to another from 1936 or so (like Sam Bush's). I was also offered a late 20s fern, but passed on it at the time. Dave Apollon was one of Gibson's prime endorsers from the 20s to the early 60s, and as such I imagine he was well supplied with current models. He's usually pictured with a "current" Gibson F-5, regardless of when the photo was taken.

When I first visited Danzi Apollon in 1978, she presented me with a spare 20s dot inlaid F-5 fingerboard (with frets) that had belonged to Dave. I immediately had it installed on my '25 F-5, where it still resides.
---
Q13
Q - Thanks so much for all that you've done to expand the repertoire of the mandolin. I'm wondering if you might describe your recording experience with Svend Asmussen and Toots Thielemans on Svingin' With Svend. Any chance that you might have something else like this in the works? For that matter, any chance the album might get re-released?

A - That album was comprised of both live and studio cuts. The live material was recorded at a week-long engagement at Fat Tuesdays, a jazz club in NYC that Stan Getz's son Steve managed. Les Paul used to play there every Monday night. One night during the engagement Toots came by and Svend invited him to sit in. I believe we played Milt Jackson's "Spirit Feel" which is included on the CD version (not the LP). It was very exciting to be a part of that meeting of two very kindred spirits and long-time friends. Perhaps that album will eventually be re-released, but for now, eBay is your best bet.

I visited Svend (now 87) in Denmark in November of 2001 and talked with him about the possibility of Acoustic Disc releasing some of his classic older material which is now in the works. He has started playing again after several years of near-retirement and I certainly hope we'll be able to hit some more licks together someday. He's a truly inspiring musician and a fantastic guy.
---
Q14
Q - Thanks for taking time to answer our many questions. I understand you have an A style piccolo mandolin that Steve Gilchrist built for you. I wonder if you could tell us about your interest in the piccolo mandolin. I thnk we'd all love to hear your impressions of its sound and where you find it most useful . Also, being a much smaller scale length, how playable is it ? Any intonation problems?

A - I ordered a diminutive or "piccolo" mandolin from Steve about 10 years ago. Just something I imagined might be cool for the mandolin player who has everything else. I tune it a minor 3rd above regular mandolin tuning: Bb-F-C-G. This way you can jam with horn players easily! It sounds good, but as you might suspect, it kind of lacks the bottom end! It is fairly difficult to get used to — far more so than mandola or mandocello, as it's easier to stretch than crimp your fingers. Intonation is difficult as well I guess because it's all so high. It took a long time to discover a real "use" for it, but I finally did, and here's the story that goes with it:

Several years ago, I did a duet session with the great bassist Edgar Meyer. I wrote a fiddle type melody as a duet for bass and mandola in the key of D. Now Edgar tunes his bass in "solo" tuning (up a whole tone) which meant that he was playing this tune in C fingering, and I was playing in A (mandolin) fingering on mandola. Well when I finally released Dawg Duos, I used another tune we did. Meanwhile, my bassist Jim Kerwin had been at the session and took it upon himself to learn the first tune. He discovered that it was impossibly difficult to play in D and that Edgar had been wise to use the fingering in C. When I was planning the Dawgnation CD, I decided to do a duet with each member of the quintet. Jim wanted to do this particular piece. Around this same time, while looking for a banjo-mandolin I opened the "wrong" case and there was the piccolo mandolin. It occured to me that if I played this tune in A position on the picollo, it would come out in the key of C, exactly where Jim had learned the bass tune. Of course it put the melody up another octave, but I really liked the concept of a bass - piccolo mandolin duet. So we practiced and recorded it, and I re-named it "Why Did the Mouse Marry the Elephant?" and dedicated it on the CD to Edgar.
---
Q15
Q - 1) I was a big fan of Stephane Grapelli, and went to listen to him whenever I could over here in France. I was delighted when you guys collaborated in the late 70's. Do you have any good stories to share?

2) Everyone agrees that your '22 Loar is one of the best in existence. But I also love the tone of your '25 fern, and find it hard to beat in many ways. How do you compare the two instruments, and on a general level, how do you compare Loars to mid 20's Ferns?

3) When are we going to have the pleasure to see and hear you (and your band) again in the Old World?

A - 1) Wish I had time to write a book here. Stephane was one of the most delightful human beings I've ever met....of course he could be a holy terror as well. He would get especially angry at people working in hotels, etc. who couldn't understand his particular brand of french/anglaise. "I preyferr to av a rheum near ze lift," (I'd like a room near the elevator) he once said to a gal behind the desk at the Chapel Hill Holiday Inn. Then he'd explode and sound like the worst foul-mouthed sailor when he'd discover his "rheum" was as far away as you could get.

When we filmed some of the live music for "King of the Gypsies" they only gave us one take in the freezing cold outside the Playboy Club in Boonton (where I and Tony Soprano both went to boy scout camp), N.J. at around 1 a.m. When I saw the rushes the next day, I heard that the soundtrack was distorted, but the footage was great.

I explained to Stephane that I'd like him to redo his solo in the studio, and he told me that would be impossible. I told him that Darol Anger would gladly transcribe his improvisation and that he could read it. Again...."Impossible!" Well, when the time came, not only did he do it but with all the nuance and vitality of the original, with a smile on his face and a gleam in his eye, watching himself in Gypsy garb on that big screen.

2) Actually, I'm a bit peeved about all the credit given to the mandolins these days. It's really about the PLAYERS. I get my tone on just about anything. I proved this true when I invited just about every "expert" in the vintage field at the time to participate in a "blindfold" test I put together before the release of Tone Poems. Most of them wisely declined. Walter Carter gave up half-way through after guessing that the S.S. Stewart Snow Queen (cheaply-made mail-order catalog item from the 30s) was my '25 fern. Tony Williamson did the best, nailing about 9 instruments, but mistaking a Gilchrist for the '22 Loar (see Steve, you've done it!!!).

Having said that, there are obviously some objective reasons why so many of us are willing to spend so much of our hard earned $$$ on old Gibson F-5s. First of all, they are exceedingy playable, well engineered pieces of equipment. They are also very beautiful in a classic, understated elegant way; and they have volume, tone and balance. (Secondly, our heroes play them. The heroes who have defined what we want to sound like. It's a no-brainer. Want to sound like Bill Monroe? Get yourself a July 9 (with side triple-binding). I'll tell you something—Mike Compton and Ronnie McCoury sound a lot more like Big Mon with their Gilchrists than most folks do with their July 9's.)

From there, I find it gets very subjective, as you yourself pointed out. You might like the way I sound on the fern better than the way I sound on the Loar. Then again it might be that you really like the music played on the recording with that particular mandolin. For me it's hard to separate the two. I played the '25 fern for many years and always thought it had everything I wanted, particularly balance...any two notes had the same tone. Then I got the '22 and wham bam everything changed. It was louder and seemed to have more of everything—highs, lows, mids, sweetness, hardness, softness ... whatever I wanted. Steve Gilchrist named that mandolin "Crusher". So I think everything is relative and if it works for you, you should go with it. Now I'm playing a totally different mandolin just for kicks, because I like the challenge of making the sound myself, regardless of the instrument.

3) I don't know—we haven't heard from any of those Old World promoters in years....but best wishes to all our friends.
---
Q16
Q - 1). Any chance of those articles that you published in Frets being made available? - I have one or two and if they were all like that they would make an amazing set for all levels of playing.

2). Any chance of coming to the UK in the near future - I saw you with Tony Rice/Bill Keith/Darol Anger at the Cambridge Folk Festival in the late 70's, but the only time I heard (after the event)you have been over here recently was a single concert with Martin Taylor. You'd be very welcome!!!

A - Thanks very much. It's definately been on my "back burner" for years, but I would like to publish the 88 columns I wrote for Frets. Just need to get on it...

Would love to come back to the UK with the DGQ. Tell all those rock & roll promoters.
---
Q17
Q - I have always loved Stephane Grappelli and I think that I was introduced to his music at a concert played here in Kansas City with the DGQ. I have said for a long time that if I had to listen to just one musician for the rest of my life, Grappelli would be the guy. How did you get connected up with Stephane Grappelli and what was it like to play with a man you described as "one of the world's greatest musicians?"

A - In 1977 I was hired to compose music for a film called "King of the Gypsies". I was also in charge of hiring musicians to appear in the film. I decided that Stephane would make a perfect Gypsy fiddler and recommended him for the job. To my good fortune, he was hired and I met with him on my birthday in 1978 to show him the tunes I was writing. It was an incredible experience. We became friends and he invited me to tour with him. Every night was amazing, really beyond description, but both frightening and inspiring. I'll never forget the time we were going to play "Limehouse Blues" and Stephane played the first 3 notes and then launched into "After You've Gone" . We had to learn that one real fast!

There are many stories and many memories. He was a true original and unmatched for sheer expression. Your choice is a good one.
---
Q18
Q - I just picked up Traversata this past weekend and am loving it. Exceptional CD. Your side projects outside of the DGQ always seem to be superb. I have a couple of live recordings of you and Martin Taylor that are in constant rotation. I must stop and thank you for allowing the taping of your live shows. Too good to go unshared. Although I don't have it yet Song of Fathers is on my want list as well. Are there any other geographical/ethnic genres you are wanting to explore more. It is a big musical world out there and I applaud you for your exploration thus far.

A - Thanks!! I've always loved Gypsy music, both Reinhardt style and other more "ethnic" styles. Perhaps that one could be next.....styles are tough, they take a lot more experience and you can't really learn them out of a book. I like listening a lot though.
---
Q19
Q - It was such a treat to see the Grateful Dawg movie in theatres and on DVD. There are really a lot of great performances in there. I think its great that the songs are uncut. My only critisism would be that every time there is a break, someone is talking over it. Are there any plans on a DVD release with the same concert material, but with out the chatter on top of it?

I am realy excited about the David Grisman Experience and the Sam and Dave CD. You are a true inspiration. Any plans on touring DGE around so the rest of us can be experienced?

A - Gee, there are no plans for such a release...the best you can do is get the soundtrack CD (Acoustic Disc). The DGEX has played a few dates beyond the local confines and hopefully will do more. Thanks for your interest.
---
Q20
Q - 1). In regard to Klezmer music, can you tell us about some of your influences, and also any current musicians/groups that you currently listen to in this genre.

2). You have played with so many different musicians of many styles of music; of current living musicians, is there anyone out there that you would like to perform or record with, that you haven't yet?

A - 1). Certainly, my main influence in Klezmer music is my dear friend Andy Statman, who I believe is one of the leading exponents of traditional Jewish music in the US if not the world. I've listened to several of the available collections of Klezmer recordings from the 20s, particularly the recordings of Dave Tarras, Andy's clarinet guru. I just got a CD of Naftule Brandewine last week and I've been enjoying that. My son Sam, was recently Bar Mitzvah and I engaged the services of the San Francisco Klezmer Experience, led by Daniel Hoffman. They have a wonderful clarinetist, Sheldon Brown. Sam and I played an arrangement of "Sholem Aleichem" with them. There are certainly many other contemporary groups that I've heard. It's quite a vital idiom, which is great.

2). I've been asked this one a lot through the years, and the list has grown smaller and smaller. You see, most of my heroes are gone — and to be honest, those kinds of goals have become virtually meaningless. It's almost like I'm wondering, "Who wants to play with me?" I would however love to pick one with Jimmy Martin and maybe play with a great vibes player like Gary Burton or Bobby Hutcherson.
---
Q21
Q - First off, let me add to everyone else's gracious thanks, the things you have done to popularize and advance the art of mandolin playing is absolutely second to none. Mando World News, ACD, etc...

First question - How did Acoustic Disc come to be? I think you have a great label going, and I love your releases... long CD's, good booklets. Looking for any help? :) I like the cover of the sampler #1 - especially the warning about 'potent strains of acoustic music' - it took some serious BALLS to put a warning like that on a cover.

Second - Can you tell us some about Old And In The Way? I listened to "Breakdown" yesterday for the first time in a looong time, and I forgot how killer ya'll were.

Third - I think you have the best tremolo in the business. Any hints as to how to develop my tremolo sound?

A - Thank you very much for your support.

1) Acoustic Disc really came together quite accidentally. My friends Artie and Harriet Rose moved out to the Bay Area from New York in 1989 and were looking to start a new business. I had just been dropped by MCA Records for not selling enough "Svingin' With Svend" LPs, and had just built Dawg Studios with the encouragement and help of Bob Shumaker, a recording engineer who I worked with alot at 1750 Arch Studios in Berkeley, CA, which I "put on the map" as a place to record bluegrass and acoustic music. In fact, most of the equipment in Dawg Studios came from there. Aftter realizing that a "mom & pop" CD store had no real chance of competing with say, Tower Records, we all thought, "Why not start our own CD label?" CDs were just coming in and many companies were having a lot of trouble dumping LPs. My long-time friend, manager, and business associate, Craig Miller, came on board and that was it. I was ready to make a new "Dawg" record, and so our first release was Dawg 90. Then Jerry Garcia called and the rest is history. Thanks to you all for helping make this possible. Incidentally, the CD business is certainly in a slump now, so if you want to see labels like Acoustic Disc stay alive, go online and buy some of those releases you've been wanting! We need it!

2) Well, Old & in the Way was very short-term — less than a year. It was a lot of fun and very loose. We'd try anything, and many of the tunes on the CDs were being played for the first time. With Vassar re-inventing bluegrass fiddle every night, it was easy to be very inspired, and I guess that energy was captured by Bear on the tapes he made.

3) The best advice I can give is to be as loose and free with it as possible (without getting sloppy!). What I'm really thinking about is the music, and what that requires. I'm usually trying to be a voice or a violin or a sax....I'm not counting up and down strokes or even thinking about them.
---
Q22
Q - 1) What are your thoughts on the growth of Dawg music? Are you excited when you hear about other bands that are playing your tunes and or writing music in Dawg style? In 30 years can you see Dawg music being as developed and diverse as Bluegrass is, or at least having it's own section in the record stores? I guess I'm making an analogy of your role in Dawg as Monroe's was in Bluegrass.

2) I live in Columbus Ohio and think I'm going to try and make it out to the Frontier Ranch on Memorial day weekend (Saturday) to see you and Old and in the Gray. That should be a lot of fun! If you guys (and girl) are in Columbus on that Friday (the 23rd of May) my band is hosting a Bluegrass Happy Hour (6:30-8:30) at a really cool bar in town called Byrne's Pub. If you and the gang have time to swing by to pick a few or just hang out that would be sweet.

A - I'm very fortunate to have been able to develop my music with some of the best acoustic musicians of our time. I certainly owe them all a big thank you. I certainly am pleased to be considered an influence by so many musicians and groups, as well. That said, my main focus has always been on my own personal development as a musician, composer and bandleader. That's a day to day process, and it keeps me real busy. As to my place in the record stores and elsewhere - I'll leave it up to them. Thanks for thinking of me in those terms but really, like most everyone else, I'm just trying to do my best. Looking forward to coming to Columbus, and will keep that BGHH in mind!
---
Q23
Q - My question is for a friend who wants to know about your strap. Is it a sax strap, and if so, is it altered in any way? Or is it a special-made strap, and if so, where can I tell him to get one?

Let me throw in another: any word on the fate of your records that are either out of print or never made it to CD? I'm most interested in Dawg 80, but also in Dawg Jazz/Dawg Grass and several others. And do you know if "King of the Gypsies" has made it to DVD? Would be great to zap to all the great music parts and skip the rest. Thanks!

A - Tell your friend that I use (on scroll model mandolins) a "Dawg Leash" (like a sax strap without the metal clip) custom made and designed for me by my friend Jay Ceballos. They were available years ago, but I'm not sure of the status now. I'll check with Jay.

Hopefully someday I can obtain the rights to my earlier unavailable work. I'm just too occupied with current and future projects to put much energy into the past. Don't know about "King of the Gypsies" either. Hopefully someday I'll be able to release the original soundtrack album that I produced. It is in my opinion, one of the best things I've ever done.

For now, I'd keep checking ebay for any of these items.
---
Q24
Q - You mentioned earlier that you had tendonitis in 1978.

Do you go through a warm up or stretching routine before playing? Related to this, are there things you can recommend or warn against which would help avoid long term physical problems or enable us to have long term mandolin enjoyment?

A - It's always a good idea to start slow and give the hands a chance to warm up. I don't have any particular routine for this, other than taking it easy at first. Stretching the fingers is always a good idea, and also shaking out the hands. Years ago I stumbled on a group of finger exercizes from the UK called, I believe, the Cowling System - a small pamphlet that was helpful. The best advice I can give is to take mandolin playing in small doses, and if your hands hurt, STOP. (At least for a short while.)
---
Q25
Q - My question is if you can put in a word with us with your pal Sam Bush to be a CGOW, now that you have had such a wonderful experience as CGOW!!!!!! Another question is do you know who originally coined the term "MAS" or "Mandolin Acquisition Syndrome," which many of us have suffered from at one time or another. You seem to have had a chronic case yourself. Have you discovered any effective treatment?

A - Funny you should mention it, but I have the Bushman right here right now... how about we dedicate tomorrow to answering questions together???? Just another special offer from Acoustic Disc...

Let us know... Sam is ready to tell all.

p.s. To date there is no know cure for MAS. Just more mandolins to temporarily stave off sanity (and banjos).
---
Q26
Q - I have a recording of you two giving a workshop at some festival. Although the whole workshop is fabulous, the bit that makes me get up and dance is about 30 seconds of (Won't You) Take Me To Funky Town. Please, what's the chord progression? I realize that after you tell me this, you'll have to kill me.

A - Sam & Dawg here....you know we just can't remember that tune, and hence neither can we remember the chords. So your life is spared.
---
Q27
Q - Sam, I hope that all is well. I know that you both loved Jethro B. and that you had many times together with him. I know that Jethro is Sams all time favorite inspiration on the mando as well as Big Mon. I also love Jethro, can you both please tell us what you admire most about him? and maybe one anecdote or dear moment each of you had with him?

Sam, when will you have a new album and what kind of material will you include? Will it be a continuation of Howlin? or maybe something new? Are you still playing "Hoss" most of the time live and in the studio?, or are you using the new Gibson and leaving the old mando at home?

Keep up the good work and let me tell you that regardless of all the great mandolin players around, you two will always be my all time favorites. And I hope that this new duo album is only the first one of many more to come. Thank you both again for all this years of great music. Your music has been and will always be a big inspiration for my life and my music.

A - Sam: I guess the thing I admire most about Jethro is that he never took anyone or thing too seriously. Obviously, he was a lousy judge of character or he wouldn't have been hanging out with Dawg and me. I'm working on a new album with my band for release late this year on Sugar Hill. Hoss is still my main instrument both live and in the studio, but I always carry new SB models and play them as well.

Dawg: Jethro holds a special place in my heart, particularly the irreverant ventricle. I have many great memories of Jethro's amazing playing, but the project we did with Tiny Moore (Back to Back) stands out as one of the high points. I'm also pleased to let y'all know that Acoustic Disc will be releasing this album for the first time on Cd soon.
---
Q28
Q - For Sam. A good friend of mine, who used to live in the Bowling Green area, tells me of a little known blues band that you once played guitar in called DuckButter? If this is not an suburban myth, please tell us about the band and if recordings exist? Thanks for all the great music over all these years! And thanks to Dawg and Acoustic Disc for bringing you into the coMando forum.

A - Yes, there is a Duckbutter. We consist of Kenny Lee - vocals and slide guitar, yours truly - vocals and electric guitar, John Cowan - vocals, bass and hand mike, Byron House - vocals and bass, and Jeff Jones- drums. We are all from, or have lived in Bowling Green, Kentucky where we started jamming in 1980. No recordings, pictures or t-shirts are known to exist. Kenny Lee's moto is, "If you want a Duckbutter CD, make it yourself!"
---
Q29
Q - Here's one for Sam: With all the "never again" "final reunion" "final II" "one last round" regroupings of old rock groups like the Eagles, CSN&Y, Fleetwood Mac, Poco, etc. do you foresee in the near future a possible NGR reunion tour? I have no doubt it would fill the largest arenas around the world. And when is that NGR box set coming out with all those "outtakes" "rejects" "B sides" "lost tapes" "foreign release only" "unfinished cuts" "Disco Mix" "From the basement/kitchen practice tapes" on it? I hope you get Bear Family to do it up right! When you played the Americana stage at MerleFest with Gator this year you left a few picks on the stage floor in your haste to leave. I picked them up. One says "Handsam" another "Sam I Am". I brought them home, pulled out my old '37 F5 and using your picks I was able to whip out "Ralph's Banjo Special" and "Russian Rag" just like you note for note with the same tone. Is there some kind of mojo magic in your picks? Are these the picks you really use or are these just to throw at the fans? I was shocked to find them so flimsy. A 1.0mm or near a Fender Heavy.

A - No reunion plans at this time, but one never knows. About the picks, those really are the ones I use, which are D'Andrea .96. This batch just seems a little flimsier than usual. I can always thank Pastor Mustard and Sandy Munro of the Great Divide music store in Aspen, for the inscription on each batch.
---
Q30
Q - Since both of you were on the jamgrass tour last year can you tell us how you liked the tour overall, and share any cool stories etc? Is it something you would both do again if presented with the opportunity? I had a good time at the Cleveland show and would go again in a heart beat. But next time I'd like to see one of you guys be the headlining act, both of you more than deserve that.

Dawg: Thanks, we had a great time hanging out and seeing all our friends. The big highlight for us both was probably when we took both our bands to PNC park in Pittsburgh on our day off to see the Giants whup the Pirates, wouldn't you Sam?

Sam: Sure was, Dawg. I was just amazed to see you pull your wallet out and buy us all hot dogs.
---
Q31
Q - 1. What goes through your head when you improvise?

2. Does it feel like you're flexing the same mental muscles as when you compose?

3. It's been a while since you've were at this point, but what made you finally "get it" about improvisation?

A - Sam:

1) This may sound silly, but when the music is right, I'm not thinking - I'm just playing.

2) No, when composing, I'm going for more structure. When improvising, I'm making up melodies on the spot.

3) I finally "got it" when a friend of mine, harmonica player Juke Logan, suggested that I learned how to make my phrases breathe just like a horn player would.

Dawg:

1) Hopefully good ideas. (Sometimes, not such great ones, unfortunately.)

2) Yes, but not really. I regard composing as a more thoughtful process. What people call improvising is in my opinion often not related to composing, though it should be. It is often merely speaking in the language of music, a language that we musicians have studied for a long time, and by gum, we certainly ought to know how to speak that language. The main deal for me, is having something worthwhile to say. Not the process of saying it, or necessarily, how we use the language. In the worst cases, improvising is regurgitation.

Sam: Hey stop it Dawg, I'm going to hurl...
---
Q32
Q - Sam, thanks for taking the time to participate in this event. Many of our Guests of the Week have shared their personal Big Mon stories. Do you have any good memories of the Mon which have not heretofore made it into print?

A - I'd like to share my memory of the first time I saw Bill Monroe. It was at the Ryman Auditorium for the Saturday night Grand Old Opry in the summer of 1964. Peter Rowan was on guitar, Don Lineberger on banjo, Gene Lowinger and Benny Williams on twin fiddles, and James Monroe on bass. I'll never forget hearing "You'll Find Her Name Written There". Seeing them in person was truly majestic.
---
Q33
Q - Sam, a couple of years ago I saw you with Augusta Ballet doing Hatfield & McCoys. Recently I saw something that led me to believe you have performed this with them a second time. If you possibly are asked to do this yet again could you spread the word so it gets around to your fans, and maybe get AB to make their video of the performance available to the public instead of just for their archives. Your efforts will always be remembered by my 'then six year old' daughter and she always points you out when she sees your face; and since she can't remember your name she does a little head shackin' so I'll know who she's referencing. It was a fabulous show and it should be made available to a much bigger audience than those fortunate enough to see the live performance. I feel like this could have a great impact on similar to 'Oh Brother' but with a much more diverse audience. Good you maybe describe the experience of this effort, how it came about, what type of input you had into the performance, how you feel about this body of work?

A - You are correct in that we did the Hatfields & McCoys in both 2001 and 2002. The idea was first presented to me by Peter Powlus, coreographer for the Augusta ballet. It was his idea to put my recordings to dance. After selecting the material, it was decided that I would put together a group of musicians to play live on stage with the dancers. The band consisted of Jon Randall Stewart. guitar and mandolin, Byron House, bass, Scott Vestal - banjo, and myself on mandolin and fiddle. It was a highly rewarding project and I'd love to do it again sometime.
---
Q34
Q - John Monteleone was CGOW back in January and he told the tale of working on Mike Marshall's Loar. John says he has a maionaisse jar in his shop with shavings taken from Mike's Loar. We also heard from Tony Williamson about witnessing a "Virziectomy" on Mike's Loar prior to John's work. Is your '22 Loar stock or have you had modifications made on it over the years? If so, what and by whom? I would ask the same question of Sam about "Hoss." Tut Taylor was CGOW early on and he recounted selling "Hoss" to a callow young Sam Bush.

A - Dawg:

"Crusher" (my '22 F-5) remains unmodified to this date with the following exceptions:

I've replaced the original tuners with the new Waverly high grade tuners. I pretty much wore out the originals, and the Waverlys work really well and required no re-drilling or any other modifications to the headstock. I have also had the mandolin re-fretted several times, but always use original fretwire out of old trashed Gibson mandolins. (Invariably, the frets past the 12th fret on most old fingerboards are in great shape).

Sam:

I bought "Hoss" in January, 1973 from Tut Taylor, who had acquired it in a trade from Norman Blake. While Blake owned "Hoss" he had Randy Wood shave the tone bars and that's when it came to life. I had heard the mandolin before the surgery and was amazed at the transformation. I begged Norman to let me know if he ever wanted to sell it, and so when he made the trade with Tut, he told him to give me the first call, which he did. When I went to pick up the mandolin I found that it had a beautiful new varnish finish, applied by Randy Wood. Apparently, since I had last seen it, Norman and John Hartford had scraped off the original finish one night. I really think that varnish finish has a lot to do with the sound of this instrument that I love. Since I've owned "Hoss", I've replaced the fingerboard twice. The current fingerboard was made by Harry Sparks and is slightly arched. I lost the original trussrod and tailpiece covers years ago, and have custom relplacements made for me by Diane Patrick. I also have installed new Waverly tuners. I used to replace tuners about once a year, but haven't had to do that with these Waverlys since they were installed 5 years ago.
---
Q35
Q - Jack Lawrence was telling me about your new companion project to Tone Poems, Tone Poets. [The two Tone Poems disks, one with Tony Rice and the other with Martin Taylor, featured Grisman and Rice/Taylor playing different instruments on each song.] According to Jack, Tone Poets will feature varying duos of musicians playing the same two instruments.

I found the Poems projects to be a prime example of how much the player affects the tone from an instrument (no matter the age or quality of the instruments, to me every cut sounded more alike than different), and expect the new disk also to show this, in spades.

How many tracks are you planning to cut for this? How many have been completed? Any idea of release date yet?

Thanks for your (and Sam's) time.

A - You're correct... Tone Poets will be coming down the pike, hopefully within the coming year. Riight now there's only one track completed but we're planning many more, probably about 15 or so. Should be real interesting. The instruments are my '22 Gibson F-5 and a '33 Martin OM-45.
---
Q36
Q - David, I just finished reading Dark Star: An Oral Biography of Jerry Garcia. You are quoted quite a bit in the book which shows a little of your relationship with Jerry. "Grateful Dawg" also gives us a good glimpse of the relationship you and Garcia had. If possible could you comment on the connection you felt with Jerry when you were playing music together. Who else (if anyone) have you played/recorded with that you have had a similar connection with? Also, do you expect to release any more music of the two of you playing together? I just had the chance to see the Grisman Quintet a few months ago at the Rams Head Tavern in Annapolis, Maryland. I think you broke at least 3 or 4 strings during that show. Is that typical for you? Thank you for your time...I love not only your music, but also the music you put out on your label. Keep up the excellent work.

A - Playing music with a close friend with common musical proclivities is a wonderful thing. I've shared similar connections with John Hartford, Andy Statman and my good buddy, Sammy B, as well as others.

I usually don't break that many strings, that's why I change them before every performance. Must've been a bad set.
---
Q37
Q - 1. Could you talk a bit about your experiences of working with your son Sam, who is rapidly developing into a great bluegrass bassist. How early did you recognize his talent, and how do you nurse it along? What are you personally learning from the experience?

2. I watched you and San Bush write "Crusher & Hoss" in an afternoon and then record it in two or three takes later that evening. It is a fast and fairly complex tune with subtle phrasing yet you two guys sound like one mandolin on it. How do you account for that astounding level of synchronicity, where you seem to literally breathe together. Has it always been a part of your playing relationship?

A - 1. I'm very proud of Sam. His first word was "bass" upon hearing a bass solo in a restaurant when he was less than two years old. My friend Bernard Glansbeek, gave him his first bass, a Kay 1/4 size at about that size, so he grew up owning a bass. He always wanted to play it, although it was way too big. I got a student cello from my good buddy Dexter Johnson, and tuned it like a bass, but Sam always wanted to play his big bass. I guess it helps to have a goal! By the time he could reach the strings he had learned some simple tunes to play in open keys.

Early on I corrected his rhythm. He got upset but learned that lesson early. For the past five years, we've gone to a great little camp on the Oregan coast called Bluegrass at the Beach. He studied bass with Todd Phillips there and has also spent 3 days with Mike Bub, at the Wintergrass Academy. He's got a great natural ability and loves bluegrass, as well as everything else. He wrote a paper on Charles Mingus at age 11 and was going to study with Ray Brown the week after he passed away. What a disappointment! But he did get to meet Ray and hear him play. I'm really trying to let him have fun with it and experiment with what he hears. He's doing real well playing in my Bluegrass Experience band. In fact, we're playing a gig today with his older brother, Monroe, who has finally gotten interested n playing and singing bluegrass! Look out McCourys!

2. Sam Bush and I have been picking together (and apart) for many years now, and I guess we've got a truly empathic musical relationship. When we planned this CD we decided to write all the material together, so we're trying to meet each other half way on every level. By this time, it's all in the details and in the willingness to create something that's part of both of us. We're having a blast.