Jimmy Gaudreau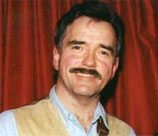 Jimmy Gaudreau made his appearance on the national bluegrass scene when the (rural southern) Shannock, RI mandolinist was chosen to replace John Duffey in the Country Gentlemen in 1969. He stayed with the gents for 2 LPs: NEW LOOK NEW SOUND and ONE WIDE RIVER. Then he and banjoist Eddie Adcock (who had left the Gents after "New Look") joined up with singer Wendy Thatcher to form the exceptional original lineup of the II Generation.

But backtracking...... Gaudreau started out playing electric guitar (his hero was Lonnie Mack) and had a group called Jimmy G & The Jaguars playing the bars on the southern RI beaches. The folk boom (Chad Mitchell Trio,Kingston Trio et. al) got him interested in acoustic music, but hearing Flatt & Scruggs gave him the bluegrass bug. During a jam with some other pickers, JG picked up a mandolin that was lying on the couch and began to fool with the instrument. Eventually Gaudreau hooked up with Fred and Earl Pike and joined Fred Pike's The Twin River Boys. By luck of Earl Pike being a northeast distibutor of Rebel records the 22 year old JG recieved a recommendation for filling the Gents mandolin/tenor vocal slot when the plans for hiring Herschel Sizemore to replace Duffey didn't pan out.

Gaudreau made an early decision in the formation of his playing approach not to try to emulate any one particular player, but take bits/ideas/sounds from various mandolin players he listened to (Bobby Osborne, Monroe, Vernon Derrick (who had also played electric guitar and put some of those licks on mando), Herschel Sizemore, Buzz Busby...) and develop his own sound,incidentally, without disowning or renouncing his electric guitar beginnings and guitar licks. Experimentation would continue with incorporation of Floyd Cramer piano licks ("Last Date") and occasional pedal steel licks transferred over to 8-string.

After the exceptional II Generation (someone needs to ask him about this group and who picked the tunes - Hide Your Love Away, Up Around The Bend,Legend In My Time, Old Man, Love Is Blue...),there was the New Tradition,which briefly existed with Keith Whitley and which mutated into The Country Store (w/Cris Stifel and Dicks Smith, and his old RI cohort, bassist Bill Rawlings). Country Store were probably the first bg band to record the Dead's "Friend Of The Devil", and also featured the first of at least three times Gaudreau recorded "Memphis" ala Lonnie Mack.

Stints (chronologically) with:
J.D. Crowe & The New South [YOU CAN SHARE MY BLANKET, LIVE IN JAPAN]
Spectrum (Gaudreau/Glenn Lawson/Bela Fleck/ [OPENING ROLL, LIVE IN JAPAN, TOO HOT FOR WORDS]
Country Gentlemen (again, with Dick Smith on banjo) [GOOD AS GOLD, LET THE LIGHT SHINE DOWN]
The Tony Rice Unit
Cheaspeake
Auldridge/Bennett/Gaudreau
and currently with .......Robin and Linda Williams

Well, that's over 30 years, as one of the best, playing with the cream of progressive BG, to ask him about this week. Make sure JG talks about the pop/BG hybrids, electric guitar&mando, and more impressions about folks like Buzz Busby. Ask the questions and you'll get some good answers; he's an excellent interview subject!

Niles Hokkanen
---
Q1
Q - I really enjoyed your playing on the last Tony Rice Unit CD, your multiple breaks on Jerusalem Ridge have been an inspiration........tell us a bit about your experience playing with T. Rice? I know you've had a many year musical relationship with him, what is it like having that great rhythm guitar behind your solos? Any suggestions on improvisation?

A - Thanks for your kind compliments about my work on Unit Of Measure. Yes, Tony is an extraordinary guitar player and I truly enjoyed the 9 years I spent working with him. It gives you a sense of being lifted to a higher level when you play behind a rhythm section like that and I feel very fortunate to have spent a good portion of my career with those musicians, As far as improv goes, I find that hard to explain, but the best way I can put it is that I'm playing a split second behind my brain, which is humming a counter-melody that is hopefully) going to work. More flexibility in the studio, but flying by the seat of your pants on stage. Makes life interesting!
---
Q2
Q - Ask him something about how he felt when he replaced John Duffey in the CG... big shoes to fill then ask him about the history of his F-5, it was an interesting one... maybe have him talk about his album 'J.A.G.'?

A - To answer your first question, I never felt that I replaced John Duffey. He was and is still my all-time hero and I am merely the fortunate person who got the lucky call when they we desperate to find someone who could pass as a mandolin player/tenor singer. You don't REPLACE John Duffey.

I used my '25 Fern model until 1983 when I sold it to my friend (and extraordinary mandolin builder) John Paganoni. He still has it, along with his '23 Loar, but I have visiting rights. I got it as a gift from Ron Siff, who used to sponser a radio show that The Twin River Boys did from Putnam, CT on Saturday mornings. He wasn't thrilled about the F-4 I was playing and when this old F-5 came up for sale, he bought it and presented it to me...an unbelievable kind gesture. Because it was getting too valuable to carry around, I asked him if he wanted it back so that he could sell it ( I had just gotten my first endorsement, a Jack O'Brien F-model) but he simply told me to sell it and invest the proceeds. I did...put a down payment on a house!
---
Q3
Q - I saw Auldridge, Bennett & Gaudreau in Lexington, Kentucky at Lynagh's almost two years ago now--a great show. Will there be anymore ABG projects or touring?

A - ABG played our last shows back in July after putting out 2 CD's on Rebel. I enjoyed playing with Mike and Richard but with Richard living in Richmond, KY it was getting logistically impossible to keep things going. Glad you got to see us in Lexington and hope you enjoyed the show.
---
Q4
Q - The All Music Guide credits you with coming up with the term "Bluegrass Police." Do you remember the context of when that famous term was coined? I think the "Bluegrass Police" are alive and well in every issue of Bluegrass Unlimited. What must they say about you playing your Rigel?

A - I'm afraid I can't take credit for coining "bluegrass police" and don't even suspect how my name got associated with it. Must have me confused with Doyle Lawson!

As far as Rigel Mandolins are concerned, here's the lick in a nutshell: I parted with my '25 Fern cause it was just too risky to carry around. A good mandolin, but not great by any means. Got my first endorsement with Jack O'Brien, who made me a killer F-style with a radically curved fingerboard that I used for a few years, until I got a hold of a '77 Paganoni B-model, which I preferred the sound of. After I bought it (from Les Thompson-NG Dirt Band) I had John Paganoni fit it with a moderately curved fingerboard, and went on to use that instrument for the duration of my stay with the Tony Rice Unit. When we formed Chesapeake, the nature of the band forced me to investigate pick-ups, internal mic's, etc. out of self defense. Tried a bunch of devices on the Paganoni, and hated all of them. Josh Crowe showed me his newly-acquired Rigel at a festival in Gettysburg, PA and the first thing I asked was "what is it, and how do I get one?" Rigels, at that time, were all acoustic models, and when I called Pete Langdell to inquire about purchasing one that was outfitted with a pickup, he said that he hadn't planned for the instrument to utilize one. But...he went on to say that if I could be a little patient, he would try some ideas he'd been hearing had good results and get back to me if he thought he was successful, and that I might find it to be what i was looking for. To make a long story short, he did indeed succeed, I got my first Rigel, plugged it in and was completely blown away by how natural it sounded. Consequently, his mandolins have gotten better and better acoustically over the years and I've traded "up" several times to the current one I'm now using, which is one of the finest acoustic mandolins I've ever had in my hands (and I do use it acoustically in my present gig with Robin & Linda Williams) and when I do have the occasion to plug it in, there isn't even a contest. Nothing else I've ever played even comes close. I can't think of one good reason not to play an instrument this good and if I thought there was something out there that I'd like better, I'd be playing it!
---
Q5
Q - Are you going to do any more projects with Emory Lester?

A - Actually, I don't have a project with Emory at this time. He has a new one out on his own label, but I can't tell you much more than that as I haven't talked with him in a while. He and his wife recently moved to Canada and I haven't been able to get by his parent's house to pick my copy up, so I don't even know what label he's using. He's one of my favorite players and I did use him in the studio (maybe that's what you are referring to) recently to help me with some tracks. I"m going to miss having him around, not only for his playing but as a friend.
---
Q6
Q - The first Bluegrass band I ever went to see was JD Crowe & the New South (1977?). Your playing got me interested in playing mandolin and led to a great life long hobby. It even had a big influence on my career since I ended up getting my first job in my current field from someone I met in a Bluegrass jam session. Thanks.

You mentioned in an earlier post that you prefer your later music. I was wondering about some earlier recordings, particularly "The Gaudreau Mandolin Album." I had that one on vinyl, but it was loaned out and I never got it back. It was a great album. Is there any chance of getting it released again? If not, is it something that could be distributed informally through Co-mando, like we have done with some other mandolin material that is not commercially available?

A - Nice to hear that I played such a part in your becoming interested in the mandolin and that it led to your current job. Terriffic!

The mandolin album you are referring to was produced by Dave Samuelson for his Puritan record label back in the late '70's and it is long out of print. As far as I know, he has no plans to release it on CD and since I have lost contact with him, I don't even know if he has the master. Hmmmm. I might just have to investigate that.
---
Q7
Q - How would you describe your style of mandolin playing?

A - I'm a converted electric guitar player who never picked up a mandolin until I was 16 years old. I'm basically self-taught and my technique (if you can call it that) is nowhere near what the instruction books dictate.

Basically transposed guitar licks. One big reason I don't teach. What works for me is probably not the prescribed way of doing things so I'm reluctant to pass on my bad habits. Too late to change though, and besides, I'm making a pretty good living being somewhat "unique" so I guess I should feel fortunate that I've been able to slide by in a world full of great players who can do it "by the book".
---
Q8
Q - Do you have a daily practice routine, and if so, what is it?
What kind of picks do you use?
Do you use, or have you tried a Tonegard?
And finally, if you could record a mando-duet disc with someone, who would it be?

A - I don't have a daily practice routine, but I keep my old, modified A-model next to my favorite chair in our family room and pick it up several times a day/night for "mindless" practice. Helps fill the time during commercial breaks on TV too!

Right now I'm using a Dunlop .88 nylon pick because I don't have to fight it as much as a heavy, stiff pick. My touch has changed over the years and band settings as well, and I find that this pick makes playing tremelos much easier and smoother, and I'm doing lots of that these days.

I did get a Tone Gard to try out and simply decided that I had gotten along fine without using one for 30+ years, so I didn't see the need to use one. New trick, old dog.

A mando-duet. That's a tough one. Probably Don Stiernberg, as he is a fine exponent of the "Jethro" style and I could only hope to swipe some swing licks if we were to get together. I REALLY love attempting to play that stuff and hope to get more involved in it in years to come. I have LOTS to learn.
---
Q9
Q - What do you think are John Duffy's greatest contribution to mandolin playing and music?

A - John Duffey may not have been the best "technician" to come down the pike, but as a young player, I was very impressed by his original approach (non-traditional, to say the least) his willingness to try just about anything, his excellent tremelo, and his ability to sell it all to any given audience. Big difference standing up there in front of several thousand fans and sitting home practicing how to play some break you heard on a CD note for note. I became good friends with John and actually spoke with him the day before he died.....and I truly miss him.
---
Q10
Q - What kind of mandolin did you play on the video of the Tony Rice Unit.... the one with you and Wyatt, Rickie and Ronnie Simpkins... I think it's from the 1992 Merlefest...

A - That was the '77 Paganoni B-Model that I used toward the end of my stint with the TR Unit. A very fine mandolin indeed and it has made it's way back to where it was built when John Paganoni was in the Air Force and stationed in the state of Maine. It is now owned by a mandolin player named John (Roc) Philibert who was looking for that specific model when I retired it after getting my first Rigel. The timing was right.
---
Q11
Q - I've had the opportunity to see Jimmy "live" in two groups -- "Auldridge,Bennett, Gaudreau" and "Robin & Linda Williams".

Since ABG is a 3-piece (mando/guitar/dobro) and R&LW is a 4-piece (mando/guitar/banjo/bass), I'd like his comments on how he approaches playing the mando in each situation.

A - My surroundings are certainly different these days and the biggest difference in my playing is that I'm using more full-rhythm licks as opposed to "chops". There's still drive happening, but it's not the same as you hear in a more bluegrass ensemble. Actually, more often than not, Linda is playing guitar and only uses her banjo (played clawhammer-style) on 2 or 3 tunes per set. I find it challenging to try and create various and appropriate "textures" to compliment their music, and I'm having a blast these days experimenting.
---
Q12
Q - Can you recall the transition from guitar to mando? I played guitar for years and just picked up mando (some people take a while to get the word) and although some things translate I have the feeling I may be trying to approach the mando as if it was a guitar and messing up that way. Any thoughts?

A - I can indeed recall the transition. You seem to be taking a similar approach if you are transposing guitar ideas/licks and I'm still thinking that way. That's what happens when you don't run right out a pick up a good instruction book like Jack Tottle's "Bluegrass Mandolin" on Oak Publications. That's the one I usually recommend when asked, but it wasn't around in the early '60's when I was making the transition, so I was left to my own devices, and voila! I'm still doing things the same way today. Worked for me and helped me define my "sound" so I figure if it ain't broke, don't fix it.. A book or instructional video is apt to teach you proper technique and that might be what you are looking for. Me, I'm just having a helluva good time playing the instrument I love, the way I feel it and if someone else appreciates my playing enough to hire me or hook up in a band with me, that's great. Otherwise, I'm still doing it "My Way" (ala Sinatra) and will continue to do so, regardless if I never make another dime.
---
Q13
Q - Unfortunately, some of your best stuff is out-of-print - the Puritan "Mandolin" album, "Classic JAG", and the original "II (roman numerals) Generation" album (which featured an all black jacket years before "Smell The Glove"). The II Generation disc's vanishing into obscurity is especially a shame, since, imo, it might have been as influential as JD Crowe&New South #44, Seldom Scene's "Act 3" had it been owned by a more financially secure label (like Rebel). (Why didn't it come out on Rebel?)

Perhaps you'd like to talk about how this group came about and what it was going for. Tune choice criteria and who brought what tunes in. Also, how did you stack the vocals and how does a certain stacking influence the mood/delivery of the material? (i.e. why/when you a 'high lead' be preferable to conventional BG trio. or 'high baritone', etc?)

Elements of this were to be found earlier in the Country Gents, as well as subsequently in Country Store, Spectrum, etc, as well as the post-Gaudreau II Generation, but it was in the original lineup where it really all came together.

A - As is usually the case, record labels are in the business of making a profit, and thus a group such as the IInd Generation, a somewhat radical configuration, only managed to attract a limited, cult following. Seems I've been involved with several groups like that, but I guess that's just my nature.

We did a lot of the high-lead stack when Wendy Thatcher did the lead vocals, but the three of us were capable of singing any given part so when I took the lead, Wendy moved to tenor and Eddie to baritone. When Eddie sang the lead on a tune, it was often the case that I did the tenor and Wendy jumped to high baritone. Made for interesting stacks that way and just made the most sense to us, given our natural ranges. We all had a hand in selecting material and I think my contributions were Hide Your Love Away, Darling Cory, I Apologize, Up Around The Bend, Mrs. Robinson and All The Good Times Are Past And Gone. Maybe more, I forget. The band came together in that form after Tony Rice, who was slated to be the original lead singer (he'd been with the Bluegrass Alliance) decided to go with J.D. Crowe instead. Worked out great for him and put Eddie and me in the position of recruiting a lead singer/guitarist. Wendy had been performing in CA with Eddie and she was actually slated to be the band's booking agent, but since we already had some dates lined up and time was drawing near, it was decided she would assume the duties. Worked out good for a while and I'm proud of the record we cut for Rome, in Columbus, Ohio, but I tired of it after a year and decided it was time to go back and play something a bit closer to bluegrass, so I recruited Keith Whitley (was with Ralph Stanley) Carl Jackson (was with the Sullivan Family) and my old buddy from RI days, Bill Rawlings (was with the Goins Brothers) and formed Country Store. That's another story.
---
Q14
Q - Jimmy has wonderful tone and speed (especially on the Unit of Measure CD), I would like to ask him about his right hand and the way he holds his pick, almost appears to be a three fingered grip (thumb and two fingers) Thanks and ain't he great.

A - You are absolutely right. It's the Carlos Santana grip, as I call it and it hasn't always been that way, I can assure you. Man, I've tried EVERYTHING.. From big tortoise picks to perfectly round (ala Bobby Osborne) cut from medium plastic triangulars to the Dunlop .88's I'm using these days. I never learned to close my right index finger in order to utilize the "pinch" grip like my mentor, Fred Pike used to use and recommended I learn. I'd already been playing electric guitar for too many years and using relatively thin picks, so when I took up mandolin, he stuck a big, heavy tortoise into my hand and told me I needed it for a good solid chop and general volume. So I grabbed the pick and I felt I was holding on for dear life. Would have used all 5 fingers if I could have got them around the pick. Today, I actually put more pressure on the middle finger and kind of steady it with the index. Helps keep the point in the right direction for doing single-string stuff up to speed, then I straighten out the index and it becomes the pressure finger of choice whan I'm playing tremelos. A different application for the specific circumstance, but it's worked for me, so I continue to go with it.
---
Q15
Q - Being a proud Rigel G-110 owner, I'd like to know what sort of rig Jimmy uses when he DOES plug in. And if he's not using it, can I borrow it for a couple months?

A - I have a Rane AP-13 and I only need to use the piezo side since the G-110 doesn't utilize an internal mic as well. It's certainly overkill but a great unit nonetheless. I use it occasionally when I work local dates with Moondi (as a duo) or with Mike Auldridge in this fun/country band called the Skylighters, so I'm not ready to part with it. Sorry. You might want to check out the Pro-Platinum direct box that Fishman makes. Robin & Linda Williams just got a couple of them and they seem to do everything this Rane unit does (also has several bands of eq) and is more compact, plus it's a fraction of the price. To tell you the truth, I got the Rane unit back in the early '90's when Chesapeake had an endorsement with them and I'm not even sure if they are making that model these days. It's likely they've come out with a newer version, but their products, although excellent, tend to be a bit pricey.
---
Q16
Q - One of my all-time favorite mandolin breaks (and back-up) is the one you did on the Country Gents "Two Little Boys". Is that an example of a guitar influence break and is that something you had worked up before you went into the studio? Also, County Sales had a cd advertised by a band called the "Deep River Band" and your name was listed as one of the musicians involved in the project. Is this you and if so was it a one time thing? Sorry to hear that ABG is no longer . . . great music.

A - I'm quite sure I didn't work up that particular break before going into the studio and yes, just about everything I play is somewhat influenced by some instrument other than a mandolin. The wierd thing is that I've listened to tons of great mandolin players and I have to (consciously) remember to not attempt to try somebody's licks (Yeah, I do a bit of cross-picking, but I'll never be mistaken for Jesse). Don't want to cop mandolin licks, but everybody else is fair game. So indeed, it might have been a guitar that influenced that particular break, but then again, it might have been a steel guitar or a saxophone (stood next to one of them for several years in my first rock & roll band).....Really!

The Deep River Band from England who are close friends and whose CD I helped produce here in the US a couple of years ago. Yes,I was asked to appear as a guest artist, since their usual instrumentation doesn't include mandolin.

They feature guitar, banjo, fiddle and bass and have become one of Britain's top bluegrass groups. They are coming back over here in May and will play some festivals and various other gigs mostly in the Southeast, plus I plan to bring them back into the studio to help produce their follow-up project. When I get their final schedule of performance dates, I'll try to get it posted.
---
Q17
Q - Could you describe the signal chain from your mando when you plug it in? What type of pickup does the Rigel have? Is it a dual system, piezo and small mic combination? Do you go straight to the board, through an EQ, any effects, blender, etc?

Do you ever play any gigs where you need to play thru an amp? What do you use?

I've enjoyed your playing for many years. Thanks for being on the list this week.

A - Pending...
---
Q18
Q - Jimmy I'm a big fan of yours through your work with JD and TR.

Your bio at www.allmusic.com mentions that you have played 5 string electric mandolin. Presuming this bio is correct, are there any recordings you have made featuring your electric mandolin? What 5 string model did you play. Can you site any influences on your electric mandolin playing?

Keep up the good work and thanks so much for your well-thought and written answers!

A - Yes, I did have a go at the 5-string electric mandolin back in the early days of Chesapeake, as the band was all plugged in and I wanted a harder-edged sound to compete with Mike's lap steel (w/effects) but to be honest with you, I never really got the hang of it. Just kidding myself thinking I actually needed a mandolin that essentially sounded like an electric guitar ( I still have an old Tele if I want a REAL guitar sound) so I quickly abandoned the idea. My friend, Jack O'Brien from NH built it for me using my original body design and I must say it was a "very cool" mando. Fortunately, another friend, Greg Root, who is a fine mandolin player from up around Baltimore came along at the same time I was thinking of selling it, and told me he was in the market for an electric 5-string. He is now the proud owner!
---
Q19
Q - Jimmy, greetings! When did you first realize that you were playing music? What do you believe to be your most significant recording?

What the heck happened with Chesapeake? I always thought that thing would just put out some real music, and was kinda disappointed when you guys went different directions.

Oh, I appreciate your comments regarding improv running a split second behind your brain, with your mind humming a tune. Do you really think you are actually humming in your head?

A - I guess when I was about 6 years old and I picked up my brother's ukelele and figured out a couple of different chord sounds that didn't strike my ear as being sour. A few strums later, I indeed thought I was playing music and ready to go on Ted Mack's Original Amateur Hour and wow the audience.

Recording-wise, I'm probably the proudest of Rising Tide, Chesapeake's first CD. Put lots of work into that and still enjoy listening to the results. Also enjoyed working on Unit OF Measure and Native American but had nothing to do with their production, so can't take credit (or blame) for anything other than my performance.

I was also quite disappointed when Chesapeake decided to hang it up, but the band from the outset had a time-frame in mind when we launched the "experiment". Our contract with Sugar Hill called for 3 projects and we agreed that if we were not "riding high" by the time the third CD (Pier Pressure) was out for enough time to see how it was going to fare, we'd evaluate our position. Despite the fact that we had Linda Ronstadt singing a killer duet with Moondi and it got played on some major country markets, the bookings weren't coming in and universal acceptance was not in the cards. To sum it up, Sugar Hill decided not to re-up the recording contract, other "bluegrass" labels wouldn't touch us with a ten foot pole and we were simply tired of beating our collective heads against the wall. You move on.....
---
Q20
Q - I'm curious about how a professional like yourself maintains and improves his technique. Do you have a daily routine you follow on mandolin?

Also, what, if any, kind of vocal training have you had? Do you practice singing independently of any other practic routine you have?

A - Like I said in a previous reply, I don't maintain a rigid practice schedule these days and never really did, except when I had to learn specific material. My philosophy is to keep a mandolin out on a stand where you can see it. To paraphrase a line from Field Of Dreams, "If you can see it, you will pick it up". I wouldn't play nearly as much as I do around the house if I had to drag one of my Rigels out and open up the case. Too deliberate a task for a guy that professes spontaneity.

Vocally, I've had no formal training, but my good friend, the late, great John Duffey used to preach singing from the diaphram and not from the throat. Training he'd gotten from his father, who performed with the Metropolitan Opera. Beyond that, the experience I got from singing with the likes of Charlie Waller, Keith Whitley, Glenn Lawson,Tony Rice, Moondi Klein, Bill Clifton and Richard Bennett was the best training I could have to become a "part" singer. You might say that I'm lucky in a way that I don't have a John Duffey or Ira Louvin distinctive tenor voice as I've had relatively good succes at being able to blend with the afore-mentioned lead singers. Ironically, I'm working in a band situation (with Robin & Linda Williams) where all the vocal parts are covered and thus far, I've performed with them only in an instrumental capacity. However, we begin a coast-to-coast tour next month and they are talking about infiltrating me into some of the gospel numbers they've been doing as a trio with Jim Watson, the bass player. Robin then would move to bass vocal and I would assume whatever part he was singing in the trio. We'll be out for a month, so we'll have lots of opportunity to work some tunes out. I'm looking forward to it.
---
Q21
Q - Jimmy, I spoke to you and had the pleasure of tasting your most recent Rigel at Merlefest a last year ago or so. You were then using the u.s. quarter sized round .88 pick And said you never loose the point that way yuk,yuk. Anywho, do you have your rigels built without any finish on the back of the neck, or do you remove it? Seems to me you said you had them made that way. One more...what's the general radiusing on you fretboards?

A - I had one of my Rigels made with no finish on the back of the neck but the one I'm using now has a satin finish (overall) and I'm getting used to it. Don't think I'll be scraping it off.

No longer use a round pick as I've found that the Dunlop .88's have a built-in grip of sorts and these days I need a bit of a point if I expect to have any degree of accuracy.

Oh yeah, I have no idea whatsoever whay the radius of my fretboard is. I'm sure Pete or anyone up at Rigel would be glad to give you that info.
---
Q22
Q - As a life-long fan, I have a few queries:

1) What's Glenn Lawson up to? Anything musical?

2) That Mando Monsters CD on Vamp was vol. 1, any plans for a vol. 2?

3) On that old 2nd Generation record (Rome black), you picked Blackberry Blossom in an odd key, maybe D? My recording is so old and scratchy, it's hard to tell.

4) Are there any other tapes/recordings of the Gaudreau BG Unit - Wyatt Rice, Kevin Church et. al. that was featured on that SCR label Live in Holland?

5) I have an old recording of a band doing a tune Louisiana Sat. Night which I think has you on mandolin. Can you say anything about that band - who,what,when,where?

Thanks for your time and music.

A - 1) Last I heard, Glenn Lawson was in Nashville but working a day job for as an accountant or something to that effect.

2) Plan on re-issuing volume 1 as Mandolin Artistry Vol. 1 and already have players in mind for a Vol. 2.....but I'm not telling when.

3) I really don't remember picking Blackberry Blossom in an "odd"key but I guess that is possible.....given that Eddie Adcock played the banjo.

4) I don't have a copy of that so I can't go back and check. Sorry. I do have a studio "master tape" of the Bluegrass Unit which I'm toying with the idea of releasing. It's on my heavy consideration list.

5) That might be from a session I did with Jim Buchanan way back when, and if it was, the players were : Jim on fiddle, Tony Rice on guitar, Bela Fleck on banjo, Mark Schatz on bass and moi.
---
Q23
Q - Jimmy, every once in a while everyone on this list posts a list of all the instruments they own. What do you have in your herd right now?

A - At this time, I have 2 Rigel G-110's, both with satin finish, a very early Gibson A-model that I bought as a body and had it re-fitted with a long scale neck (had to modify the braces) and I use it as my practice mando, so it's always out where I can grab it. I also have one of only two 2-point, oval-hole mandolas made by Pete Langdell of Rigel. It's a copy of the early Vega cylinder-back and it is the finest mandola I have ever had in my hands. I have an inexpensive Hora mandolin made in Romania and have it set up in a modified octave tuning, just for kicks. It's actually a better wall-ornament for the music room. Guitar-wise, I have a copy of an old Martin O, 12-fret, slot-head that's a great little lap guitar and I also have a Sigma 12-string that I bought recently only because I couldn't resist the price (not telling). My main acoustic is a custom dreadnaught made in England by a luthier named Adrian Farmer, who also plays banjo with the Deep River Band, whom I mentioned in an earlier reply. It was made to specs that Richard Bennett gave him and is essentially a copy of a pre-war herringbone by you-know-who, and looks like a guitar played by another you-know-who. (again, not telling). It is a FABULOUS instrument. And...somewhere in my archives I still have a '67 Fender Telecaster that has had a bit of modification, but I rarely take it out and virtually never play it on stage. Also have a couple of nice fiddles which I don't play but managed to acquire when my daughter was taking lessons several years ago. She lost interest and I continue to hold on to them in hopes she'll take it up again at some point. Think that's about it.
---
Q24
Q - I'm curious how others approach playing while singing. Does your chording change while you're singing as opposed to while you're accompanying someone else? Do you use different patterns that make the playing part simpler (read: easier)? Do you work on feeling your position on the neck in a way that might be different while singing? Do you tend to eliminate fills? If you play fills normally and still play them while singing, how did/do you incorporate them? Do you just drill them home? Currently, I can play alright while singing but, struggle when trying to add ornamentation while singing. Would this be one of the true advantages of playing out of chord positions? I would also really appreciate hearing others opinions even if there is nothing different.

A - This is all stuff I never give any thought to, really. When I'm singing, I'm concentrating on just that and the mandolin becomes a support device. Most bands I've played in adopted the theory that "more" is usually too much. I might try to attempt some back-up stuff or fills if I were say, Jethro Burns and performed as a solo. Saw him do it on several occasions and was completely blown away. But, I'm not Jethro (and neither is anyone else that I'm aware of) so it's not high on my list of things I should try to incorporate into my playing. Wouldn't have lasted 9 minutes instead of 9 years in the Tony Rice Unit if I tried to do the stuff you're talking about. Sure, I do rhythm licks and accents, but I don't think about them, I just feel them and because I've done it that way for so many years, it's like throwing a switch on the mandolin to automatic pilot.
---
Q25
Q - I, too, was lucky to catch Jimmy at a time he was selling one of his two Rigel G-110's at the end of 2000 (the lacquer model not the fine satin finished one he now plays with no finish on the neck). The one I got from Jimmy was the one used for performing in 2000 and on the final CD A,B & G recorded in the summer of 2000. He had hand selected the Rigel in question from a large batch being shown at Wintergrass 2000. That evening in December, 2000 when Jimmy came over to show me his Rigel (I live in nearby MD), I had never played one before and didn't know what to expect. Needless to say I was more than impressed with this mando,and purchased it immediately after I played it for a couple hours. At that time it had a fat, woody & powerful voice all through the fingerboard....in the three years since then it has matured further into an exceptional mando.I have played it at bluegrass jams doing very hardcore Monroe style material, and it has stood the test. Of course, it is a much more versatile mando than the standard F5 style mandolins I now own and holds a special place for me in my mandolin arsenal.

Thanks Jimmy for giving me the chance to own and play this exceptional instrument. And thank you Peter M. and Pete L. at Rigel

A - Thanks for the glowing (totally unsolicited) testimonial regarding your Rigel G-110. True, I did pick this particular mandolin out of a number of different models that Rigel sent to Wintergrass that year, when I volunteered to fly out there and act as a rep. I always love to attend that event and I had a great time meeting people, talking mandos and doing demos as well. Anyway, from what I've seen recently, there was a bit more variation (be it ever so slight) back then, within the model types, and thus, I was more impressed with this particular one than with the others. These days it's a different story. Although I can't explain it from a technical standpoint, I can tell you that the current models I've seen and played are at the level of the (Ron Kaye's) subject mandolin and I would find it nearly impossible to have to pick one over another. It appears that "consistency" has been a priority with the folks up at Rigel and to my ears, they've succeeded. I had to chuckle when Donn said he did a workshop with his being the only Rigel in a room full of "traditional types" . Not for long, my friend, not for long!
---
Q26
Q - I also have a three finger grip on my pick and was wondering if you hold it loose or tight and do you choke up on it...thanks

A - I hold it just tight enough to not drop it. That tends to be embarrassing. I would think that making a conscious attempt to hold it really tight would not be good for your hand/wrist/fingers. You're still using muscles in the end and flexibility is always a plus when it comes to mandolin playing.

I did a duo-workshop with Chris Thile a couple of years ago at the Wings & Strings Festival in Florida, and I was surprised that he was using a heavy (Clayton, I think) triangular pick that he held with the most "delicate" grip I've ever seen. He stressed to the attendees the importance of being "loose" and using your wrist in sort of a windshield wiper motion, and all I could think to myself was "yikes! He's sitting next to a guy that plays as stiff as a board, in comparison....maybe one of the biggest violators". Almost wanted to run and hide. Of course, after you hear him play, you really want to do that anyway!

Concerning choking up: I don't expose a lot of the point, since I used a round pick for so many years I don't want to "dig-in" too deeply. Still getting used to going back to this type of pick and live in constant fear of hanging it up and sounding like a train wreck.
---
Q27
Q - Jimmy, do you think scale patterns when you play or improvise? Or, I guess, do you improvise? Do you play out of chord positions, ala Monroe? Do you use music theory in your playing or is it mostly by ear?

A - I'm like Bill Monroe in the respect that I also simply picked up the instrument and started playing it. I don't read music, would struggle if you told me I had to learn stuff from tab, and the closest I've come to music theory is from having been exposed to guys like Tony Rice, Bela Fleck, Moondi Klein and a few others who have studied it. I literally fly by the seat of my pants and rely totally on my ear, familiarity with the instrument, huge stockpile of tricks and licks that I seem to be able to summon up at will, plus, once you've played in as many bands as I have, with guys like the afore-mentioned greats (and others) in front of huge audiences, you tend to be daring, somewhat fearless, adventurous even. Tony used to threaten the members of the Unit (kidding around)that if he heard the same break twice, you were fired. Nine years later I was still having a blast, and still making it up. These days I tend to improvise (experiment with) breaks until I find something that suits the song we're doing. Not getting lazy or less adventuresome, just want to fine-tune it until it compliments the music. I get paid to make it pretty not like the old days when I felt I was driving in the Indy 500 and the folks in the stands were holding their breath, waiting for the crash.
---
Q28
Q - I've got a question, if I can figure out how to express it. How do you visualize the fretboard when you play up the neck. Apparently, you don't visualize scales. Do you play out of chord formations? Do you have a pattern you use. On electric guitar, most people of course play out of "boxes." I am a devotee of B.B.'s box myself. The boxes are scales. B.B.'s box is a major pentatonic scale with blues notes. The box slides up and down the fretboard to change the key. On mando, I started thinking of the 1st string 7th fret and above as the B string, which would be the next string a fifth higher than the E string, if the mando had such a string. Then if you start at the 7th fret as the "nut" you are effectively playing the B, E, A and D strings. The patterns that work in the first position work from the 7th fret up. That's the way I look at the fretboard. How do you perceive the higher positions when you play up the neck? Surely you can't play be ear up the neck. Is that possible?

A - This is precisely why I don't teach. Like I said early on, I'm self-taught and I do wierd things that I, myself, find hard to explain. I have a good friend who moved from this area to Nashville (he's a rather decent mandolin picker and excellent bass player) and he once told me that he could watch Doyle Lawson, John Duffey, Bill Monroe and others play a mandolin and be able to understand, to an extent, what they were doing. He went on to say that he had watched me probably more than all the others put together and came to the conclusion that he didn't have 1 clue as to what I was doing or how I was getting so many notes out of what seemed like very little movement.. And he stressed "not 1 clue". Didn't know whether to take that as a compliment or wonder if he was just saying that I'm screwed up! We are still friends though...

There's really no way I could be doing things by the book, when I've never seen the proverbial book. Okay, I take that back. When I was about 8 years old I got my first Sears & Roebuck guitar for Christmas (basic, small flat-top acoustic) and with it I got Nick Manoloff's (spelling?) 5-minute guitar course in pamphlet form. Some of the chord fingerings were not the type that most of the players I know use today. For instance, it showed the E and Am chord being made with the index finger and middle finger ONLY. Em, no problem, middle finger, 2-strings. And although my hands aren't especially big, nor do I have long fingers, they are a bit wider at the ends and I was able to manage these chords, even as a kid. When I picked up a mandolin I figured out that I could actually mash down 4 strings with 1 finger and thus be able to plant it wherever I wanted to on the fingerboard, using it as sort of a movable capo. So I guess you would have to say that things start taking on a shape, because things begin to look somewhat like first positions up the neck. I tend to use my pinkie instead of the ring finger when I go for certain reaches that a person with longer fingers would be able to manage and I'll use it a lot like someone who is playing a bottle-neck style guitar. Lots of slides. Lots of other tricks that I'm sure are unique to my playing. The downside of all this is that I realize that I'm in fact a "limited" player. Sure, I can invent breaks up the neck, but I'll never sound like Chris Thile, Alan Bibey and the other usual suspects. However, since I only have to sound like me, I'm not overly concerned about going back and straightening out what's taken me 40 years to incorrectly master.

Sorry I couldn't provide a technically better explanation.
---
Q29
Q - I keep wanting to ask you this question, but I keep forgetting. Who are your favorite mandolin players that you like to listen to? What mando player's CDs or records do you have in your collection? What are your favorite CDs you listen to, genre notwithstanding? What CDs do you now have on your car stereo? Do you like rap? And BTW, I'm listening to one of yours as I write but you are about to lose out to Stephane Grappelli and Yehudi Menuhin playing Rogers and Hart.

A - Like I eluded to in a previous reply, I don't make it a habit to listen to mandolin players. True, I have MANY favorites, but couldn't possibly single one out as being my FAVORITE. They are also friends of mine that I've made over the years and I appreciate certain aspects about each and everyone of their individual styles. I'm still paranoid about picking up something I hear one of them do that I like, so I stay away from it as much as possible. Of course the OTHER reason is that they play so damn good that I'm positively green with envy!

No, I'm not a fan of rap and consequently there's not a single rap CD in my collection. I really listen to stuff like Sinatra, Michael Johnson (not Jackson) Alison Krauss, Leon Redbone, various celtic groups, smooth jazz. Occasionally vintage bluegrass, ala Flatt & Scruggs.
---
Q30
Q - Here are some tunes which I personally think you could pull off acoustically with success, based upon some of your past progressive/hybrid tune renditions.

Wicked Game (Chris Isaak)
Blue Blue Day (Bob Gibson)
Dream On (Aerosmith)
She's Not There (Zombies)
Reno Nevada (Richard Farina)
Solitary Man (Neil Diamond, good cover by Chris Isaak)
Heart Full of Soul (Yardbirds, but imo, the Chris Isaak cover is better)

Ever do any of these? Reactions?

A - Thanks Niles for the suggestions. No, I've never thought about any of these, but in the event that I get the urge to do another solo project, I'll check them out.
---
Q31
Q - You say you'll never sound like Chris Thile or Alan Bibey playing up the neck, I've got to say that I've been listening to you all week, buddy,and you certainly sound pretty good to me. You have a lot of fans out there, my friend, knowledgeable fans. They say every musician is defined most by his limitations. I guess that is true.

You say you learned to cover all four strings with one finger. Are you saying you use barre chords on your playing up the neck?

A - Sorry about that. I wrote that reply late last night and as tired as I was, I shouldn't have even attempted to explain how to open an instrument case. Let's try this again. No, I don't play barre chords, what I do is cover 2 pairs of strings on the same fret using my index finger tip, although I have been known to use the middle finger in the same capacity. I'm sure I'm not the only one around that does this, but you do need finger tips of a minimum certain size and you're fingerboard/ string spacing has to be taken into consideration as well. For instance, I couldn't pull this off on Radim Zenkl's guitar-size fingerboard.

Hope this clears up the confusion.
---
Q32
Q - Jimmy, I wanted to start by saying thanks for your great playing all these years. You were one of the mandolinists who really helped draw me into bluegrass; your adventurous repertoire really appealed to me as I moved from listening to rock and roll toward bluegrass. You must be the only mandolin player to record "Red Rubber Ball"! And I want to take the chance to say that your break on "Sally Goodin" on Unit of Measure is one of the most awesome mandolin breaks of all time.

My question actually starts with a story, and refers to something you already mentioned about your right hand. A number of years ago, I was at the Birchmere for New Year''s Eve, the Tony Rice Unit and the Seldom Scene. What really opened my eyes that night was watching you and John Duffey play--he had a really fluid wrist, but his usual rough, choppy sound (which I love.) Your wrist was rigid and stiff, but your playing was incredibly smooth and fluid! This really was a revelation to me. You've already said that you play "wrong," and that you felt funny in this workshop with Chris Thile. But obviously, regardless of your approach, you are getting the results, because you are one of the smoothest, most fluid, and fastest mandolin players around.

So where would you say your fluid sound comes from, given that you don't play with the loose wrist most people recommend? Is this something going on in your fingers and thumb? Or something else? I ask because I try to stay loose, but get rigid above a certain speed, and would really love to get the smoothness you do with a more rigid wrist.

A - I'll make an attempt to describe what's going on with my right hand. First of all, I cut my strap to a certain length in order to have the proper, most natural feeling "pivot point" for my right forearm which is somewhat closer to the tailpiece than the top F-hole (my preference). I don't use a finger rest, ala banjo-style unless I break into a section of cross-picking licks or back-up, at which time I find it necessary for balance. Otherwise, still utilizing my 3-finger grip, I keep the ring and pinkie loosely tucked into my palm which (I swear to you) affects my tone, accuracy and speed as well. Meanwhile, I've taken a small file, and rounded off the G end of the bridge saddle as I tend to brush against that part when I'm "digging-in" to something, lead-wise. Factory saddles are typically cut with a sharp edge that would scrape my palm in the lower thumb area, so I make it as sooth as possible by finishing it with fine sandpaper and then steel wool with a tiny bit of car (paste) wax.....really. Beyond that, I've always tried to keep my movements confined to the tone-zone area below the 22nd fret or if your mandolin has a fingerboard extension, right at the point where it cuts away. It's hard to play "loose" AND be confined to an area at the same time, but it translates into an efficient stroke in my case, despite the fact that it looks stiff. And yes, if you indeed saw me standing next to John Duffey,I'm sure I looked like I was playing with a full cast on my arm! Note: John always told me that he liked my playing but I tended to make it look too easy, and when I watch myself on a video, I see what he was talking about. Then, of course, he'd always kid me by saying that I needed to be (or at least LOOK) more "showy", but I reckon I'll just never get the hang of it and after this many years, I doubt if I'll take his advice. Worked for him though! And I guess, when you come right down to it, it IS whatever works best for you..
---
Q33
Q - To your (and more to my) dissapointment I must say that I have never heard you play yet, but I will correct that situation by getting a record from you. Despite that, I would appreciate if you could tell us something about how long a process it is for you to adopt/adapt a new tune to you repertoire? Could you also descripe in some detail this process from the beginning till you/you feel a tune is "ready". Also how do you rehearse new tunes in the band situation? Does it go well right from the start or is there much arguments between the player how it should be played? Also how long a time you personally/the band keep a tune in your repertoire or do you have them all in your active repertoire?

A - Since I've played in several bands over the last 30+ years I'll address the question to my current situation. That being, working with Robin & Linda Williams & Their Fine Group, which includes Jim Watson on bass and sometimes mandolin (twin with me) as well. Anyway, R&L write a good portion of their material and when they present new tunes to Jim and me, they don't have a "set" arrangement in mind. Jim will usually write a chord chart to learn it and because I have a hard time with looking at any kind of written stuff while I'm playing, I'll try to catch the sequence and feel au natural. He usually ends up learning it faster than me, but in any case, it soon starts taking on some shape. We talk about who should do the kick-off, break(s) structure, back-ups and (between them) harmony parts, and where they should go. No arguments about this stuff....discussion only. Since it is their group and they would have every right to tell a player what they want and where to do it, I'm very fortunate (as a "hired-gun") that they respect my playing enough to have a say in the arrangement process and consider my ideas...... Although at times they might have to get me re-focussed, should I start to wander too far astray from what they had in mind for the tune. Hey, that's what happens when you play in the Tony Rice Unit for 9 years, so I acquired that trait legitimately!

They've written a ton of tunes and I've managed to learn a good many of them, so they are able to write up several totally different set lists if it really came down to that. There usually is a number of tunes from whatever their current CD happens to be (recently that is Visions Of Love on Sugar Hill) and there are a bunch of favorites that show up frequently, plus, they'll often do requests, which will replace something or be added to the set list. Bunches of tunes, lots of flexibility, helps keep a fresh attitude when you hit the stage.
---
Q34
Q - What various celtic groups do you listen to?

A - Okay. Keeping in mind that celtic is indeed a broad term, I have several CD's by The Chieftains (doesn't everybody?) some stuff by Loreena McKennitt, Sarah McLoughlin (tears me up) Mary Black, Boys From The Lough (actually got to pick with them in Seattle a few years back). Then, too, I like the Cape Breton sound and have a couple Rankin Family CD's, and there is a lot more from there that I've yet to investigate. Got a dandy from a group out of NC called Cucanandy (not sure if they are still together) but when I saw them at a festival in '01, they floored me. I also want to check out Shatter The Calm by Dan Beimborn, who I understand is from out in the CA Bay area. I'm not even a novice when it comes to Irish/celtic mandolin and the website has gotten me curious. Turns out I'll also be performing in that area with Robin & Linda during the last week of Feb/early Mar so I might check to see if he's playing around there on one of my nights off and catch his act.

Looking back, I really wish I had made the effort to travel the British Isles early on and hang out with local musicians. My life and my career probably would have taken a completely different route, but who is to say? I just know after travelling there several times during the past 10 or so years, I can feel my Scottish (mother's side) roots tingling and like Yogi Berra so aptly put it "it's like deja vu all over again", and the music REALLY gets to me.......whew!
---
Q35
Q - I have a question for you. If you were on a desert island with your CD player and you could only listen to one artist the rest of your life, who would it be. My choice would be Stephane Grappelli. What sounds that guy could make. I got to see him a number of times here in Kansas City, with the DGQ and on his own. Somebody on the list mentioned that he recorded some Tin Pan Alley material with Yehudi Menuhin and I ordered up a couple of CDs. Great stuff.

A - That's the toughest question to answer. Oh boy! I usually go with first reactions and if I thought about this a long time I'd drive myself (more)nuts. I just might have to say Tony Rice...IF you are talking the artist's collective work and not just one CD. Between the Crowe stuff, the Bluegrass Album Band volumes, solo vocal and instrumental projects, ol' TR has covered a lot of ground and all stuff that suits my tastes.
---
Q36
Q - If just one, what is the record you'd recommend to get to represent your playing?

A - Actually I think Classic JAG about sums it up. Unfortunately it's another one of those that was done as an LP on a small, independent label (WEBCO) and when the label was bought by Pinecastle, Tom Riggs decided to not re-issue it on CD. I've toyed with the idea of buying back the master and may do that at some point....We shall see.
---
Q37
Q - Out of all the bluegrass characters you have played with and known over the years, who are some that stand out in your memory the most. I assume you knew the Big Mon, Lester and Earl, Ralph and Carter,Bobby and Sonny, Jim and Jesse. Do you have any good stories to tell on any of these guys? Any special memories?

A - Out of the group you mentioned, I did get to know Jim and Jesse, Bob & Sonny and Bill Monroe actually on a first name basis, although I always referred to Bill as "Mr. Monroe". I met Lester and Earl on different occasions, but never got to know either one, really and Carter Stanley died before I came on the scene so I never even got to see him perform live, much less meet him. Ralph, I got to know fairly well, and I guess you could say that he wasn't a big Jimmy G. fan. You see, I did recruit Keith Whitley back in '72 from his band to help me form Country Store along with Carl Jackson and Bill Rawlings. That didn't set well. But, as if that weren't enough, after Roy Lee Centers was killed, Ralph needed a lead singer and Keith felt obligated to go back with him... until around late '77 when Glenn Lawson left his position with J.D. Crowe and The New South and I, once again, drove down to Sandy Hook, KY where I proceeded to convince Keith that he ne! eded to join J.D. and company. I'm told that Ralph is one to hold a grudge, and I reckon I still see it in his eyes every time he sees me at some event. Of course he still speaks to Crowe!
---
Q38
Q - I have a copy of a pretty cool Jethro Burns live show at the Birchmere on 3-10-1982. It has you, Doyle, Duffy, maybe others and of course Jethro all jamming at once. Could you comment on that show a bit, was it as fun as it sounded? Was it really Jethros birthday or was every show his birthday? Would have loved to have been there myself but I've mis-placed my time machine somewhere. I also have a nice live show of you with Keith Witley, Pat Cloud and Jim Lanners from 1972 in Ca. Whatever happened to Pat Cloud?

A - Now I have a question. How in the world did you get a copy of that show?

Yes, it was every bit as fun as it sounded and I felt very priveleged to have been asked to participate in that performance. I had gotten to know Jethro pretty well during the last few years of his life and had always admired his magnificent playing, but to be on the same stage with him was an honor I'll cherish forever. If I remember correctly, besides the others you mentioned, Dick Smith and Akira Otsuka were also part of that extraviganza and should appear on that same tape.

Yes, it was actually Jethro's birthday and I recall that after the performance, someone had been thoughtful enough to have baked a tasty birthday cake which actually didn't go too badly with the beer that we toasted the occasion with. Jethro was in fine form that evening and kept us in stitches until the party broke up. A genius player, a consumate entertainer and an all-around great guy. I miss him, and I'm sure that all who knew him does too. Note: I still have the old (modified) A-model that I used on that show and before I left the Birchmere that evening, I asked him to sign the back of the headstock. He did so promptly and then proceeded to hit a few choice licks on it (that didn't stick, unfortunately) before handing it back to me....standing there with my mouth hanging open. I loved the mandolin before that moment, but now I treasure it.
---
Q39
Q - Have you had any formal voice training? Do you have any regular voice practice regimen?

Thanks for your very interesting responses!

A - No, I haven't taken formal voice lessons, but my dad did when he was a young man and he offered advice when I was growing up and trying to scream as loud and as high as I could. Also, when I moved to DC in 1969 I got to know John Duffey quite well and since he'd also gotten advice from his dad, a Metropolitan Opera singer, he passed on what he knew about breathing and singing from the diaphram to me. I never had the power or range that John was gifted with but I've been lucky that my voice hasn't changed a lot over the years and I can still sing in the tenor range and sound pretty much like I did back then. Since Robin, Linda and Jim Watson (bass player) have been working together since 1988, they have all of the parts and arrangements covered for the material we're doing, so I haven't been involved to date. There is talk, however, that I will be "infiltrated" in that capacity while we're out on tour in Feb/Mar, so I'm looking forward to blowing off the cobwebs.
---
Q40
Q - Jimmy, do you know Don Stiernberg, upcoming CGOW for the week of February 23rd and leading acolyte of the great Jethro Burns?

A - Yes I do know Don and have had the pleasure of jamming with him on several occasions. You are right, he is a prime exponent of the Jethroian technique and he's got a lot in his own bag of tricks as well, so I expect he'll be a great guest.....might pitch him a few questions my own self!
---
Q41
Q - I'll ask you the same question I asked Mike Compton about his Gilchrist mando. If aliens took all the Rigels and kidnapped Pete Langdell and Peter Mix, what mandos would you look at as a replacement?

A - 'Ya know, if you're going to pose a scenario like that I reckon it's my duty to not dodge it and tell it like it is. Here goes: I'd not spend one minute looking around to see what's out there, I've actually played my share, so I have a pretty good idea. And since I have acted in the capacity of artist relations rep. for Rigel I am well aware of the fact that companies products gain popularity when you see more players in high-visibility positions playing them. Therefore, I would be very comfortable playing my old, modified Gibson A-model until the phone rings and someone wants me to check out their wares. And it probably wouldn't be Gilchrist or Dudenbostel or someone else who makes a limited amount of high-end models. These guys don't need endorsers and don't even have to advertise. But there are BUNCHES of others out there that are making spectacular instruments who aspire to getting to that level or maybe have their sights set on becoming a full-fledged company vying for a piece of the growing market. I more than suspect that there is somebody out there making something that I could live with, just fine.

The trouble with your question though is that these same aliens would also have to erase my memory and every other player who had his or her Rigel snatched, because once you've played one , you don't forget!

Hey, you don't hang around John Duffey for as long as I did without a little bit of that arrogance rubbing off.....
---
Q42
Q - I've a question here about plugging in the mandolin. Because the difference in volumes between the chops and the picking, what is the best way to compensate for it? Do you use a pedal, or do you play differently?

A - I guess if I had to solve that problem on my own, I would probably opt for the volume pedal. The only time I've used my Rigel in a band situation was with Chesapeake and because we carried a full-time sound tech, I never had to deal with that issue. Only had to deal with him when he forgot to push one of my breaks (hardly ever), so I'm afraid I can't answer your question from experience.
---
Q43
Q - If you could put a band together to play any style of music you want, and could choose from any musician, living or dead, who would be in your Band? And why did you pick them?

A - Again, going with my first impulse, I'd be very happy to re-assemble(re-live, actually) the 1985 version of the Tony Rice Unit. Tony was still singing better than anyone else on the planet and with Wyatt on rhythm guitar and Mark Schatz on bass, it was like feeling the power of a big ol' freight train steaming down a long stretch of level track. I could think about it all day and never come up with a combination of players that I'd rather be surrounded by on a stage than these guys.
---
Q44
Q - I have been reading a bit of bluegrass history from "the Big Book Of Bluegrass" and it mentions that Bobby Osborne started as an electric guitar picker/and fiddler before he ever picked up a mandolin and that his style and approach are derived from his guitar playing. You mentioned that your progression to the mandolin came this way as well. DO you derive any influence from Bobby Osborne?

Finally, when you played with Tony in the TRU, what was your attitude about the double breasted suit look? I always considered the TRU as being a class act and the formal stage wear reinforced this in my mind. Was this simply just stage attire or did it add to the sophisticated approach the band's always had?

A - Actually I wasn't aware that Bobby started out on electric guitar. I did know that he plays fiddle and I've had the pleasure of hearing him play some VERY impressive fiddle tunes on the mandolin in keys like F and Bb. Made my jaw drop!

My hero has always been Lonnie Mack and to this day whenever I hear his version of Memphis, I am reminded that he, more than any other guitar player, took (rock/country) lead playing to the next level and demonstrated to the rest of us that there was more to "hot lick" picking that barring a couple of strings and playing a few riffs out of that position. Changed the way I (and many others) thought, that's for sure.

Dress code wasn't mandatory in the Tony Rice Unit. In the beginning,we all wore jeans, sport shirts, whatever and as long as we didn't show up looking like an unmade bed, Tony wouldn't say a word. Somewhere along the line, (I think after Rickie Simpkins came aboard) Tony decided it was time for him to change his image, and nobody ever questioned him as to why that was. Anyway, it was never discussed that the rest of the group follow suit (pun) but one by one we all got got into it......Self defense, really.
---
Q45
Q - Jimmy, when you and I first talked about your being Guest of the Week, you mentioned in passing that you felt that Mike Compton, Ronnie McCoury and others were "real bluegrass mandolin players" and that you would rather listen to them than to you, or words to that effect. Who are some of the bluegrass mandolin players that you admire and why? Who are some of the non-bluegrass mandolin players that you admire and why?

A - I mentioned Mike Compton & Ronnie McCoury because they are a couple of my favorites from what I refer to as "the Monroe camp". The fact is that my head is not, nor has ever been in that camp if you are strictly speaking. My head is somewhere between Lonnie Mack/ Don Rich, and Jethro Burns/Vernon Derrick. Odd combination, oui? Well these are my influences, which probably accounts for the reason I have a somewhat "distinctive" style.

I admire tons of players in the traditional, non-traditional and way-out-there styles and it would take me all day to list them, so I'll dodge that one. Suffice it to say that I LOVE hearing the instrument played in any way shape or form and the older I get, the more I see the music being created blossoming and branching out, showing up in more and more types of music. And it still makes me blush when I see my name appear on a list with a lot of these folks....like this CGOW list, for instance. Gaaaawwwwly!