Petri Hakala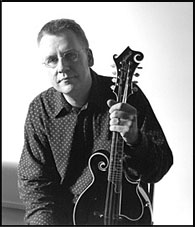 Petri Hakala, one of the top mandolinists in Finland is this week's CGOW. I met Petri in 1989 on my first visit to Finland to play at the Haapavesi and Kaustinen Folk Festivals, and have jammed with him on/off stage on numerous occasions.

Petri's initial musical iniation was on electric guitar (rock n roll), from which he soon shifted over to acoustic and bluegrass music, first on guitar and then moving over to mandolin and playing in a Finnish bluegrass band called Speed Limit. Irish music and the band Korkkijalka (Cork Leg) followed while continuing on the bluegrass path.

Eventually, interest in indigenous Finnish folk music kicked in, and Petri along with fiddler Kari Reiman (of the band Varttina), accordionist Kimmo Pohjonen and Kurt Lindblad (flute, Estonian pipes) formed the band Ottopasuuna, and their eponymous first album became the first of the "New Finnish Folk" groups to have a CD released in the US (on Green Linnet). It's a great album mixing 200-year old+ tunes with some original material, with arrangments which showed the influence of modern Irish bands such as Boys of The Lough. For the most part, on this album, Petri anchored down the bottom end on mando-cello, playing mandolin on only one track, and guitar on another.

Most of the top Finnish players are involved with several bands at the same time, each band having a different approach or playing a different style/genre, and Petri is no exception. The Helsinki Mandoliners mandolin trio (mandolin and cittern; sometimes with Tapani Varis added,on upright bass), IBM-Intergalactic Bluegrass Messengers, (accordionist) Maria Kalaniemi & Aldargaz.

Besides mandolin and guitar, Petri also plays fiddle, mandola, octave mandolin, mando-cello and 10-string cittern. He lives in Helsinki, the capitol and largest city in Finland, and teaches mandolin at the Sibelius Academy Folk Music Dept. (Can you imagine Julliard having a bluegrass/old-time/western swing deapartment?!)

Probably many on the Comando list are unfamiliar with either Petri or Nordic music. Here's an opportunity to find out a bit more about both from a high level player whose credentials range from Nordic folk > Irish > bluegrass > semi-classical.

- Niles Hokkanen
---
Q1
Q - How did you come to play the mandolin?

A - I got interested in mandolin when I heard bluegrass music on the radio in the late 70´s. I already played acoustic guitar at this point so the mandolin was an easy addition. At the same time I also heard the first LP by The David Grisman Quintet and mail ordered my first bluegrass LPs and was hooked forever. The search for my own roots came later.
---
Q2
Q - What is the history of the mandolin in Finnish music?

A - Mandolin was a typical home instrument in the early 19th century. Also some mandolin orchestras have been known to exist.
---
Q3
Q - Is the mandolin used in Finland today to play "Finnish music", or is it played more in "bluegrass" and other kinds of "foreign" or "world" music?

A - Mandolin hasn´t really been used in folk music until last twenty years or so. The Sibelius Academy and the popularity of the group Värttinä have been important for the current popularity of mandolins and other stringed instruments as well.
---
Q4
Q - Can you briefly describe the Sibelius Academy Folk Music Department, and the role of the mandolin there?

A - Sibelius Academy Folk Music Department is part of one of the biggest music universities in Europe (1700 students), The Sibelius Academy. Folk music dept was started in 1983 with little over 70 students right now.

I have been teaching mandolin and guitar there since 1990. The main focus is on Nordic music. Compared to the fiddle tradition for example the mandolin tradition doesn´t really exist today, so we are creating the new tradition in that sense too. I also try to make the students aware of every existing mando style and find elements from them to use in creating their own style. One of the most important thing is to find your own style as a player.
---
Q5
Q - How popular is the mandolin in Finland today?

A - Generally mandolin could always be more popular (read: not very popular).
---
Q6
Q - How would you describe the traditional Finnish folk music that you play on the mandolin?

A - The music that I play falls to some kind of new tradition category i guess. Octave mandolin for example is quite new instrument in Finnish folk music. In a duo with Markku Lepistö, who plays two and one row accordion, we play a lot of traditional material but in our arrangments we also use some outside elements. I try to avoid just adding an outside element to a trad tune though. Sometimes an outside influence fits so nicely that it becomes an inside element. Think of guitar in Irish music 40 years ago.
---
Q7
Q - On your recordings, it appears that you have explored music from many world sources--how has this influenced your own composing?

A - Exploring the music from many sources is certainly very important for me also when composing new tunes.
---
Q8
Q - What considerations led you to use octave mandolins and similar instruments instead of the "standard mandolin" for some of your recordings?

A - Octave mandolin is really just an extension to standard mandolin. Mandocello is a great instrument also that I used in a group "Ottopasuuna" earlier. It depends on tune and the players what you choose. I mostly play just mandolin nowdays though.
---
Q9
Q - Your fellow members of the Helsinki Mandoliners, Olli Varis and Arto Järvelä, say that you were there mandolin teacher--how did that come about? A - I was Olli´s first mandolin teacher at the Academy in the early 90´s. Arto took a few lessons also. I think I learned more from him however.
---
Q10
Q - When will you come to North America again?

A - I just played in USA few weeks ago with John Miller and Ruthie Dornfeld from Seattle. Myself and Tapani Varis toured with them for two weeks in the Nothwest. Helsinki Mandoliners may show up someday, who knows.
---
Q11
Q: Did you teach yourself mandolin or did you take lessons? What instruments did you play before starting on the mandolin and for how long? A: I´m mostly self taught.Started in the late 70´s. All the magazines like "Pickin´", "Frets", "Mandolin world news" and "Mandocrucians digest" were essential for a starting bluegrass mandolinist. I had played guitar about ten years at that point.
---
Q12
Q - Is "IBM" - "Intergalactic Bluegrass Messengers" still in existance? Did you make any CDs with this group? Are there any good bluegrass festivals in Finland or Sweden? A - Not really.However, that´s the name of one of the many groups that has involved banjo player Janne Viksten (check out his solo recordind "Blue Harbor") and myself. We will also play several dates with Janne this coming summer in Finland. No recordings with that group. Bluegrass scene generally is very small in Finland. There is only one festival in Ruotsinpyhtää that has been going on for several years. There is some bluegrass at the Haapavesi Folk Festival every now and then. The situation in Sweden I don´t know really, but I imagine there´s several festivals.
---
Q13
Q - Do you play any classical mandolin? What do the main part (classical section) of Sibelius Academy think of the folkies in the Folk Music Dept.? A - I don´t really play classical mandolin actively but as a teacher I have tried to get to know little bit about it. I have played at the Opera orchestra every now and then and also performed two Vivaldi concertos couple of times. Nowdays there´s is quite a bit of interaction between the departments and I think our department is quite well respected.
---
Q14
Q: What pick direction pattern do you use when playing jigs and slip jigs? A: The basic way I guess is to play Down-up-down on every three eight notes. One way to think about is to play down on beat, which is what I always try to do, and the beat happens after three eight notes in both jigs and slip jigs. However, sometimes I play Down-up-up depending on how the melody goes to get a little rhythmic variation (this is also Down on beat, right). One of the most important thing to think when considering the pick directions for me is how the rhythm of the tune go.What kind of rhythm to the melody you want. Down- and upstroke alsways sound a little different. It´s also important to use a solid motion on your right hand ie/ not too much variation with pick directions. This is little bit difficult to explain without music and playing but I hope this will do for know.
---
Q15
Q - Could you mention good sources for Finnish original mandolin music (notation)? Are you perhaps aware of any archives in the net?

A - There isn´t that much available really. There is a very good mandolin tutor book by Seppo Sillanpää issued by the Folk Music Institute about ten years ago. You can try to get it from www.kaustinen.net. There is also couple of cd´s (Akustin polska and Lamentarola) and books with all the tunes from the cd´s and a another book of twin fiddle/mandolin arrangements by Seppo. The cd´s are available from www.kansanmusiikkiliitto.fi . For the books, try mailto:bando@mbnet.fi. Sibelius Academy has also published some books. Lassi Logren´s twin fiddling book is very good for mandolin. There is also a guitar book by Olli Varis and an accordion book by Markku Lepistö of Tauno Aho´s tunes. Both have very nice tunes in them.
---
Q16
Q - What kind of mando-cello and cittern do you have (or had)?

A - On the Ottopasuuna cd the mando-cello was an old Gibson K-1and the Octave mandolin was a Finnish made instrument by the luthier Keijo Säteri. The Cittern (I call it an octave mandolin) is made by Stefan Sobell from England.
---
Q17
Q - Why did switch from mando-cello to the cittern for a low sound? (If that is what you have done)

A - The Mando-cello is kind of a bass instrument really with much darker sound than octave mando. I used a four course instruments awhile after mando-cello too and got a five course instrument later (tuned DGDAE). Most of the playing happens on four upper courses and the low D is for drone mostly, so it´s a fourth higher than mandocello and much brighter tone. So I think I changed for the higher soung originally but mando-cello is a wonderful instrument also in it´s own limited way.
---
Q18
Q - What tuning do you use on cittern?

A - DGDAE with pin point capos
---
Q19
Q - What does a cittern give you that you can not get from a guitar?

A - Guitar is totally different instrument (in standard tuning) to me. The tuning and the double strings are the biggest difference I guess. 12 string guitar tuned to fifths would give somewhat similar sound. The original influence for Stefan Sobell´s cittern was Portugese guitar and it has some of that characteristic bright sound in it too.
---
Q20
Q - Do you use your mandola much? Is this CGDA tune or "tenor mandola" tuned as they call it in Europe/UK...... GDAE and octave below a mandolin?

A - I don´t have a mandola anymore , only the Sobell Octave mando/Cittern.
---
Q21
Q - A question for Petri; I could be wrong but I think that more Finns per capita play an instrument and traditional music than us here in the U.S.

A - I´m afraid I don´t have any specific knowledge on this. I would guess it´s about the same. Folk music generally isn´t very popular at the moment.
---
Q22
Q - Does Finnish public education include an emphasis on playing traditional and folk music? And if so, is mandolin a popular instrument for Finnish folk musicians?

A - Same thing goes with this one. I´m not an expert on this.They teach 5 string kantele (our national instrument) in the school. That´s about all I know. Mandolin is quite popular among the folk musicians in Finland.
---
Q23
Q - I have a Helsinki Mandoliners record and two JPP records. Both groups are really good and I am wondering if the musicians got their interest in folk music starting in grade school?

A - All the players in JPP have long folk music traditions in their families. I think the folk music influence for them started long before grade school. I got interested in Folk music after grade school and after Rock´n roll, so the backgounds vary a lot.
---
Q24
Q - You have or had several Gilchrists. What models do you have?

A - The mandolin I play nowdays mostly is a Gilchrist model 5 from 1998. I also have a model 3 (X-braced) that I play occasionally. My cd "Kirjo" was played on model 3 but I feel that the 5 works best at most situations for me. I also recently bought a Brazilian Joao Batista mandolin which is a typical mando for choro music. Very different from the Gilchrists.
---
Q25
Q - Didn't you have a full set of Gilchrists - a mandolin, a mandola and a short-neck octave-mandolin?

A - I had a Gilchrist mandola also earlier. That´s the instrument you saw in Finland I think. Octave mandolin would be fun wouldn´t it.I don´t think he builds octave mandolins.
---
Q26
Q - What were (make/model) the first couple of mandolins you owned?

A - In the past I´ve also played an old Gibson A model and F5L. I started on a Finnish 12-string Landola mando.
---
Q27
Q - Who are some of the other notable mandolin players in Finland and what styles do they play?

A - Among notable Finnish mandolin players I must mention Heikki Lahti, one of the few old players with distinctly original style (well, you know him), Seppo Sillanpää, who recorded few mandolin based Lp´s about ten years ago. Nowdays he (Seppo) performs and records with his daughters Selina and Jemina. My pals Olli Varis and Arto Järvelä from the group Helsinki Mandoliners, that I also play in. Also a group called "Plektronite", my students from the Sibelius Academy, who just recently completed their first CD.
---
Q28
Q - How often do The Helsinki Mandoliners play concerts?

A - Helsinki Mandoliners is a group that plays when the occasion rises. The last time we played in USA was last September at the Nordic Roots festival in Minneapolis. Our new cd "2" was released in February 2003.
---
Q29
Q - Can you explain a bit about how the tunes are arranged for the trio and how the various parts are stacked? How are the "harmony" parts different than what someone might find (like twin fiddling) in western swing or bluegrass?

A - Harmonies and arrangements depend on the instrumentation i guess. The typical instrumentation is two mandolins and an octave (or comp mando) or three mandolins and a bass. Typical harmony is usually below melody. We rarely use three part harmonies. Anyway the melody is (almost) always on top. Octave melodies are used sometimes. I also like the counterpoint very much and playing with the rhythms of melody and harmony.
---
Q30
Q - What is the "standard" (if that term applies) folk ensemble comprised of (in terms of instruments)? (The usual bluegrass group has banjo/guitar/bass/mandolin/fiddle...... the usual Finnish folk band has.....?)

A - Traditional lineup for the folk music group is a group of fiddles, harmonium and a bass. Accordion (lot of times 5-row) is a typical addition also. Guitars and mandolins have only been used for past twenty years or so. Nowdays the instrumentation varies a lot so it´s hard to say what is usual. Oldest form of course is solo playing.
---
Q31
Q - Do many Finnish acoustic musicians play 1) bluegrass? 2) Irish? 3) Appalachian old-time? 4) other world/ethnic music?

A - There are players for all four genres mentioned. I started on bluegrass myself and also tried all the others at some point. I like Appalachian old-time music very much.
---
Q32
Q - Is there anywhere on the internet that someone might be able to listen to some MPs or sound samples of your playing?

A - As for the MP3 samples of my playing try:

CD Roots has sound samples of following (this is in USA):
Petri Hakala: Kirjo
Helsinki Mandoliners: 2 (1 also i think)
Petri Hakala & Markku Lepistö: Duo cd "pelimannien jäljillä"
Markku Lepistö: Silta
Erik Hokkanen & Lumisudet
---
Q33
Q - At Sibelius Academy, I assume that all your mandolin students are of at least an intermediate level skill? ( When Sibelius Acad. brought me in as a guest instructor, all the mando students I had were very good players - Olli Varis, Jarmo (the guy who was playing with Nikolai Blad), etc.)

But you also teach at many of the summer music camps in Finland (Haapavesi, Ala Konni Opisto at Kaustinen) and at those camps, the level might be anywhere from beginner to advanced. From your perspective as a mandolin teacher, what do you feel are the two or three most important things for every beginning mandolin player to learn?

A - This is very good question but a difficult one.

I think it´s important to try to learn a good technique at the beginning (right hand technique, pick directions etc.)
* Work on timing. Slowly first but always in time.
** Learning by ear .
*** Learning to know your instrument (this requires a little bit of theory too I guess).
---
Q34
Q - Who are some European mandolinists that American and Canadian players might want to take a listen to?

A - Ale Möller from Sweden of course and also Roger Tallroth for mandola playing. Simon Mayor from England is very good.Also Patrick Vaillant from France. He has a mandolin quartet called Melonius Quartet. I´m not an expert in European mandolin scene but there also must be some exellent players in Ireland too.
---
Q35
Q - Is Heikki Lahti still entering and winning that mandolin contest they hold in Finland? (Where is that?) Or can he no longer enter because he has won the allowable maximum number of times?

A - I think Heikki mostly judges these competitions nowdays. You are guaranteed to see him at the Kaustinen folk festival every summer.
---
Q36
Q - I've been forwarding your CGOW Q&A to the New Nordic Folk list too after they've been posted on Comando. And that got people on the Nordic Folk list talking about the Ottopasuuna albums. Someone mentioned that Kurt Lindblad (flute/pipes/clarinet player in the first Ottopassuna lineup) died last August (2002).

The last time Debbie and I were in Finland, in '99, we asked Kurt to sit in on a couple of tunes at our gig in Kokkola. We did "Kolmospolska" (which we learned of the first Ottopasuuna album) and also surprised him with "Highway To Hell", making him take the "guitar solo" ....on low D whistle. And then all the music students in club were chanting "Kurt, Kurt, Kurt" and doing the 1st-4th finger heavy metal salute. That was one of the best memories from that particular trip. It was also one of the best gigs ever; wish somebody had made a board tape.

What happened to him?

A - Kurt had an epileptic attack and he fell and hurt his head. He was taken to the hospital but nothing could be done anymore. He was teaching in Kokkola at that time.

That was so unfortunate. We lost a very talented guy and a good friend who had an encyclopedic knowledge of Finnish folk music and music generally.
---
Q37
Q - You say you started on Landola but now use non-domestic made instruments. You previously mentioned one Finnish mandolin builder and I know that Arto Pulkkinen also builds mandolins. Can you mention some other top builder names?

A - Rauno Nieminen is a builder who has done a lot of research on instrument building generally. He also founded an instrument building school in Ikaalinen where Arto Pulkkinen also studied earlier. Keijo Säteri whom I mentioned earlier also builds mandolins and octave mandolins and Irish style bouzoukis (longer scale).
---
Q38
Q - Have you tried the rencent domestic (luthier made) mandolins and if so what can you say of their quality and price levels? Do you think buying a known brand like Gilchrist or Loar etc. is a must for a recording artist?

A - The mandolins of Arto Pulkkinen are fine instruments.Couple of my students have mandolins made by him.I´m not sure about the prices but i think they are quite affordable too.

There are certainly a lot of great mandolins available today.You can get a decent f-model for a lot less than Gilchrist or Loar and those are definitely not a must for recording artist either. It depends on what sound you´re after really. For my purposes I want a powerful instrument acoustically and a one that records fine too. The f-model works best for me in all situations generally. The Gilchrist f-mandos are finest copies of the Gibson Loar mandos I think but that´s a different discussion alltogether.
---
Q39
Q - I remember Arto Pulkkinen mentioning that he has used thermo processed wood, do you have any knowledge of how thermo wood sounds in mandolin?

A - I haven´t had a chance to really compare them but the idea in thermo processed wood is to dry the wood to make it sound like an aged wood. The ones I´ve heard sound very good but to make any judgements you would have to have two identical instruments with thermo and non thermo woods I guess.
---
Q40
Q - How did you get your instruments, did you order them custom made from a luthier? Have you had any modifications made to them afterwards?

A - From the luthier. No modifications.
---
Q41
Q - In you list of notable Finnish mandolinists you did not mention Janne Viksten and Jussi Syren, have you had any co-operation with Jussi Syren, with Janne you already mentioned you have.

A - Yes Janne Viksten also plays mandolin. He plays banjo or guitar mostly when we play together however. We have played together in various combinations since early 80´s. Currently in Markku Lepistö´s band and also occasional bluegrass gig mentioned earlier. Haven´t really played with Jussi Syren exept in jamsessions.
---
Q42
Q - Have you ever concidered having you record samples available at Mandolin Cafe?

A - Why not. How do I do it ?
---
Q43
Q - Marketing must be quite a difficult task for an artist coming from a small nation like fi. How do you get your self known abroad? Naturally you first build a reputation in your home country, but after that is it customary to use a foreign agent? I don´t know but i´d like to know how to get yourself known.

A - Folk music is very small business in Finland and all the foreign contacts that you can get certainly help. Most of it happens from people to people still. Internet certainly helps. I´d like to thank Niles and Glenn for having me as a Co-mando guest of the week. It´s been fun answering your questions. Thanks a lot.