New Don Stiernberg Album!
Don Stiernberg - Good Numbers
with Andy Brown and Jim Cox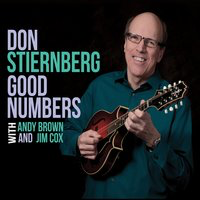 At music festivals,jam sessions, parties, gigs,and hangs, there's a saying musicians use after a particularly satisying jam: "That's a Good Number!". This project is a collection of good numbers humbly submitted for your approval and enjoyment. Included are standards, jazz tunes, and one original, performed by The Don Stiernberg Trio, Don's working group with Jim Cox on bass and Andy Brown on guitar. While there are only three musicians on any given cut, the textures and grooves vary track by track. Don plays acoustic mandolin on 7 tracks, electric on three, and sings 2 vocals. Andy reaches for a classical guitar on Latin and waltz tunes, the bulk being addressed by his trademark archtop acoustic with varying degrees of amplifier support. The resulting mix, while unique, is to be enjoyed by fans of jazz and acoustic string music, or in other words, "Good Pickin' and Good Numbers".