Tim Ware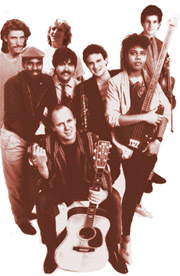 The Tim Ware Group was formed in 1978 when Tim Ware and Bob Alekno ran into each other at Peets Coffee in Berkeley, California. After an enthusiastic conversation about music, the universe and everything, Bob and Tim agreed to put hands to strings and get something going.

The next to come on board was John Tenney, a local violinist of some repute, whose head was bracketed with incredible ears. John then brought in 'cellist Sharon O'Connor (with whom he played in the San Francisco String Quartet) and bassist Ken Miller, who was (and is) proficient at both jazz and classical music. Together they set out to render Tim's arrangements ready for prime time.

After Tim played a rehearsal tape for his buddy David Grisman, Grisman turned to him and asked "How much of this shit do you have?" Tim answered "five!" So, Grisman had a little talk with Jeff Alexson and Tom Diamont at Kaleidoscope Records, they had a talk with Tim, and all decided to make a record. For "Spiral Moons," which Tim wrote for mandolin quartet (2 mandolins, mandola & mandocello), Tim enlisted Grisman and two of his fellow David Grisman Quartet members at the time, violinist Darol Anger and string virtuoso Mike Marshall. The Washington Post, in its glowing review of the album, said the track evoked "the warp and woof of a finely woven Oriental carpet."

In 1981, Tim met violinist David Balakrishnan, and the two hit it off immediately, sharing a vision of music which would sustain them for the next few years. In 1983, after the stunning critical success (and less-than-stunning commercial success) of the first album, Tim convinced Rounder Records to fund and release a second album. "Shelter From The Norm," with David Balakrishnan replacing John Tenney on violin, was released in 1983. Once again, the critics thought it was pretty cool stuff, but radio wouldn't/couldn't touch it. The band hung up their strings in 1984.

In 1985, Tim formed Tim Ware Group v2.0.

Tragically, Bob Alekno was killed in an automobile accident in 1995. Bob was a dear friend and a great human being, and is greatly missed by all who knew and loved him.

Dave, with violinist Darol Anger, formed the Turtle Island String Quartet, of which he is still a member. John is still a very active musician in the San Francisco Bay Area, and, as a studio guy, has played on a great many albums, including "Skylarking" by XTC. Sharon is also active as a Bay Area musician as well as the author of a quite successful series of cookbooks entitled "Menus & Music." Ken still plays music in the Bay Area.

After getting married in 1988, Tim returned to college to get a degree in composition. After graduating in 1992, he got interested in Chaos Theory, which led (don't ask) to an interest in the fiction of Thomas Pynchon, which (when the WWW came into being) led to his building a very large website exploring Pynchon's works, which resulted in his having a pretty fun and profitable career in Web development. His business is called HyperArts, and he currently works closely with graphic designer extraordinaire Michael Cronan, who designed the TWG's second album.
---
Q1
Q - Tim, tell us about what got you started on mandolin. When did you first start playing?

A - I moved into a house in Berkeley in the 70s and there was a mandolin, a "tater-back," hanging on the wall. I picked it up and just started messing around with it. I'd been playing the guitar for about ten years, so I had some digital dexterity and callouses. I began practicing constantly and started writing tunes - not bluegrass, as I wasn't a bluegrass player. After several years I had written a bunch of music. I didn't come from any particular mandolin tradition, so I developed my own style which owed very little to bluegrass, and more to rock/pop, fusion jazz, classical, and English/Scottish/Irish folk music, which was the music I listened to. When David Grisman became aware of my music and touted me to Kaleidoscope Records, I had to borrow his gorgeous blond F4 to use for the recordings (it's the mando hanging around the statue's neck on that Rounder album). It was very painful to return it to him afterwards.
---
Q2
Q - What mandolin do you currently play? Is it the same one you used on your recordings "Tim Ware Group", and "Shelter From the Norm"?

A - Just before recording my second album, "Shelter From The Norm" (Rounder/Varrick 014), I bought a lovely Monteleone mandolin from Mike Marshall, a good friend to this day. As it turns out, after I went back to college in the late 80s to get a degree in music, I became very involved with MIDI and had also returned to playing the guitar. So I sold the Monteleone and bought a bunch of samplers (I know, I know...). I still have a Washburn which I recently used in a score I wrote for an Oregon Public Broadcasting documentary. But I sure regret selling that Monteleone. I bought the Washburn from Bob Alekno.
---
Q3
Q - I had the pleasure of meeting Bob Alekno in the 1980s, when he was playing with Dix Bruce. Tell us about Bob.

A - Well, as you know, Bob had moved to Nashville in the late 80s and, tragically, was killed in an automobile accident when a guy crossed over into his lane, hit him head-on and he was killed instantly. It was just a horrible experience for all of us who were left behind. He was 44 years old. He had been my best friend all during the Tim Ware Group days and was just the sweetest guy. He was a sensitive and nuanced musician and brought a great spirit to our band. I had met Bob at Peet's Coffee in Berkeley one beautiful summer morning in the late 70s. I think we had some mutual friends and we had just sort of bumped into each other. I told him I wanted to form a group to play my compositions and he was interested. We were pretty inseparate for the next five years. I still miss him a lot.
---
Q4
Q - How did you meet David Grisman, and was he an influence on your composing and playing?

A - Around 1976 I went to a small church in Berkeley to see the David Grisman Quintet, the original group with Todd Phillips, Darol Anger, Tony Rice and Joe Carroll. I thought, Wow, this stuff's akin to what I'm doing on the mandolin. I asked Grisman if he'd give me some lessons, he said "Sure," and I went to his house & played him some of my compositions. He suggested that we just hang out rather than have a student-teacher relationship. So that's what we did, a number of times for the next several years.

As for David's influence on me, I'd have to say that although there was surely some influence, I think I was way more influenced by the Mahavishnu Orchestra, various pop/rock groups and English folk music. His music sounded like avant-garde bluegrass to me and I wasn't really a bluegrass fan, although I became one through so much exposure by knowing all these great bluegrass musicians. And his particular brand of bluegrass was quite appealing. It was always irritating to me when my music was compared, in reviews, to his. I thought we were pretty different, but I guess to ears not accustomed to the dulcet tones of the mandolin, it all sounded about the same. Whatever.
---
Q5
Q - Who are some of your musical influences?

A - The Beatles, The Incredible String Band and Robin Williamson, Bill Frisell, Masada, Habib Koite, John McLaughlin, Syd Barrett, Eric Satie, Debussy, Ravel, Future Sound of London, all kinds of music. I'm a tireless electic.
---
Q6
Q - Which mandolin players do your admire?

A - Mike Marshall, Dave Apollon, Jacob Bandolim, Andy Statman.
---
Q7
Q - What are some of your favorite recordings?

A - Most things by The Beatles, Habib Koite ("Muso Ko"), Elvis Costello, They Might Be Giants ("Flood" or "Factory Showroom"), many classical composers, "Magic Mountain" by Alan Hovhaness, "Life Forms" by Future Sound of London, "Masada Guitars" by Frisell, Tim Sparks & Mark Ribot, "Strength in Numbers" (Sam Bush, Mark O'Connor et al.), "State Songs" by John Linnell, Varttina (amazing!), "Inner Mounting Flame" by Mahavishnu Orchestra, "Between The Buttons" by the Rolling Stones, "Ghost in the Machine" by The Police, surf music, "Pet Sounds" by the Beach Boys (almost anything before this one, as well). Well, I could go on and on.
---
Q8
Q - We've discussed a lot of topics on CoMando, strings, picks, b@njos, what strings and picks do you use?

A - Jeez, I think I've usually used D'Addario, but I'm not that much of a connoisseur. Heavy weight picks, plastic, triangular.
---
Q9
Q - Do you have any advice for those of us who are trying to learn to read notation?

A - Yes, stick with it. Playing music is speaking the language. Notation is reading & writing the language. Having said that, some styles of music don't really require reading & notating. The way I learned was by forming bands that included classical musicians who knew notation cold and writing arrangements for the band and taking the jeers & hoots along with the oohs & ahhs.
---
Q10
Q - Hello, Mr. Ware... It's a great pleasure to have you as our guest.

Your 1st two albums, "tTWG" and "Shelter...", are 2 of my all time favorite mandolin/acoustic works out there. They are so unique and so fresh to this day in my opinion.

I would just like to hear a bit about making those two albums, what your approach was, how you feel about them and hear them now 20 years later, working with the other musicians, etc.

A - First, thanks for the kind words. Of course, even after 20 years, it's hard for me to listen to my own albums; I just want to do it all over again, and get it closer to "right." Oh well...

Anyway, lesson one is I should have had someone other than myself produce the albums. I wrote and arranged everything, rehearsed the band and conducted the sessions. It was too much for one person. That being said, recording the first album was a great experience. Arch Street was this wonderful converted Spanish-style home the Berkeley hills in California. Bill Shoemaker, the engineer, was a pleasure to work with.

I remember the first session, I arrived and Bill Amatneek (David Grisman's bass player) was there, and thought he should produce the album. I don't recall ever asking him if he wanted to produce, and at this late date I can't remember how the hell he got there. He wanted us all to hold hands before we started playing. Anyway, it just didn't work out. My musicians - Ken Miller on bass, John Tenney on violin, Bob Alekno on guitar, and Sharon O'Connor on 'cello - were of a more rebellious stripe and Amatneek's approach didn't work, and he was dispatched pretty early on. So that was that.

Lots of folks dropped by during the sessions to hang out and listen. The late great Kate Wolfe was there one evening, and I recall a very young Mark O'Connor being present for a couple sessions.

The Spiral Moons session was particularly memorable. I have a number of photos from that session and I'll try to get some together for this article/ interview. I had written a piece for mandolin quartet and asked David Grisman, Mike Marshall and Darol Anger to be the other three players (mandolin, mandocello and mandola, respectively). We did many takes, laughed a lot and, after many hours, pretty much nailed the piece. We actually performed that piece live a couple times - once at Kuumbwa Club in Santa Cruz with Mark O'Connor playing the other mandolin part, and once at the Great American Music Hall with Mark O'Connor playing the mandocello part. I have to say that Mark is probably the most amazing musician I've ever encountered personally. Each part in Spiral Moons is fairly complex, and Mark learned both the mandolin and the mandocello parts as fast as is possible, and he performed them flawlessly in concert. There's a live recording of that and I'll get an MP3 of that. While Mark was in Grisman's band, I saw quite a lot of him and he never ceased to amaze me with his awesome prowess on mandolin, guitar and violin/fiddle.

Anyway, my general recollection of making that first album is very positive.

It took a lot of phone calls and letters to get the second record deal, with Rounder finally coming through with enough money for me to wrangle a good deal at Different Fur Studios in San Francisco, owned by Patrick Gleason.

David Balakrishnan had replaced John Tenney as our violinist, and we had been doing a fair number of gigs, so we were better prepared for the next album. Howard Johnston was the staff engineer at Fur and was a great guy to work with. We did *many* late nights recording that material, using every one of the 24 tracks available to us.

I had a full-time job as a legal secretary, and the month spent recording "Shelter From The Norm" was absolutely insane. I would work all day, and either come home and practice my tunes or go to Fur to record, or mix, or whatever. And I hadn't yet finished writing "Duet For Mandolin and Cello"! So the whole period is sort of enshrouded in this fog, but a fairly friendly fog, yes.

One regret is that we recorded "Duet" toward the end because it was the last one I finished writing, and when we did that Howard and I really worked at the 'cello sound. "Eleanor Rigby," which we recorded last, benefitted from that attention -- the 'cello sounds great. But I feel the 'cello sound isn't as good as it could have been in the other pieces. Again, oh well...

The night before the sessions were to commence, I began hearing a buzz in the mandolin I owned, a Washburn F5 model. In a panic, I called Mike Marshall, who loaned me his Monteleone mandolin which I fell in love with and bought from him. I foolishly sold it in the mid-90s to buy some electronic gear (!). Damn!

I do recall we had a quite festive playback party, with everybody pretty altered by the time the finished LP got played. We were all very stoked at the sound of it and I spent a few days feeling like hot shit, until I heard it a couple hundred more times and little mistakes began to distract me from the Larger Picture.

The craziest thing that happened with "Shelter" is when Howard and I flew down to Los Angeles to master the LP. After we had finished, we got in a taxi to go to the airport and the driver got a call and was told he wasn't supposed to be in the area he'd picked us up in. So he was in a phone booth arguing with his superiors while Howard and I were sitting in the cab worrying that we were going to miss our flight. Finally, I just got out of the taxi but Howard was afraid to. He finally, did and we got another taxi but missed our flight anyway. Crazy.

My favorites from these sessions are "Idiot Glee," "Bartok's Blues" and "Lizardology" (which was titled ironically, after all those -ology songs Grisman et al. did, emulating all the classic jazz -ology tunes). "Eleanor Rigby" stands up pretty well, too. I always loved George Martin's string arrangement, and all his others too. I loved it when you could almost see the resin grinding off the strings. I just wanted to replicate that arrangement for the fun of it. I played both mandolin parts.
---
Q11
Q - Your eclectic attitude and influences are inspiring. do you any advice for other players trying to develop their "own thing"?

A - Jeez. Just do your own thing. Follow your ears. But listen to others and if you like something they do, steal it and make it your own. If you've got a quality creative engine you'll turn their idea into your idea and they won't sound the same at all. It always seemed I'd start writing a tune wanting to do one thing, but the tune would eventually take over and do what *it* wanted to do. I just had to stay flexible.
---
Q12
Q - Hi Tim, I am a big fan of your music! One of my favorite pieces is Bartok's Blues. Any interesting stories on writing or recording that one? Thanks!

A - Yeah, I'm proud of that one. I came up with the beginning of it just messing around on the mandolin, utilizing a pedal tone and creating a melody over the open strings. The second part, the more whole-tone sounding section, was, if memory serves, my attempt at doing something along the lines of the Mahavishnu Orchestra, a band that just completely blew me away for years. "Bartok" is a nice piece of work and I sweated bullets bringing it into being. I know it intrigued Balakrishnan and got him to pay attention to me. It's probably the most "realized" tune on the album, the one at which I cringe least when I hear it.

When we performed it live, Ken Miller used to really put Bob Alekno through the wringer during the bass and guitar duet - dropping beats, modulating to weird keys and generally forcing Bob to really focus his mind. Sometimes I thought it was a bit sadistic, but Bob always got through it and smiled the whole time.

The title came about when I was rehearsing a very early version of the tune and someone's roommate said, "What's *that* called? Bartok's Blues?" And that was that.
---
Q13
Q - I was lucky enough to live in a musically enlightened town in the early 80's (Knoxville, TN) and when your first album came out, I snatched it up, sound - unheard. The cover photo's told me it would be great. And, it was. I bought it the same day I got the Marshall / Anger "Duo" LP.

My question: Is music your livelyhood? With all the file swapping, and you making your music available on your web site, I wonder how an artist can make ends meet nowadays. Or is music only part of your professional life?

A - No music is not my livelihood and I pretty much am a believer in keeping your livelihood and your art separate, just for the purity. No matter who you are (other than a handful of very fortunate and talented folks), trying to make a decent living playing music is no picnic. My joy always came from just trying to compose something I'd never heard before, and to be successful in The Music Business, you have to be somewhat (or very) repetitive. You need, um, Brand Consistency, and I was not interested in this in the slightest. I started a Web business in the mid-90s which has been quite successful and for a number of years I really had no time or energy to make music. But this was okay because I needed to get my financial house in order, particularly living in the Bay Area and trying to buy a house. I'm starting to have time now to do music again, and I recently scored a couple Oregon Public Broadcasting documentaries and had a great time doing it, just recording in my home studio, using my Titanium Power Book, Digital Performer and my KM 84 mic. This is what works for me.
---
Q14
Q - I own both of your albums on vinyl and I used to play a version of Under the wing and Under the Weather in a band back in the day. I think one of the most beautiful tunes on your albums is Seaborne Clouds (even though it has no mandos in it). I was wondering where you got the idea for that tune. I have often thought it would sound good played by a mandolin group with the mando cello taking the part of the cello. I am glad you put your arrangements of the tunes on line in notation. You have some great tunes that you should be proud of.

Also I was wondering if you still play much mandolin. I take it from your website you have ventured off into midi stuff (I am also a fan of Lawrence of Arabia).

A - "Seaborne Clouds" - well, I wrote that in the mid-70s, soon after hearing the Mahavishnu Orchestra, and I wanted a piece that had the sound of the more lush, melodic, slower pieces in their repertoire. Of course, the end result sounded nothing like the M.O., and that's what happens when you give the tunes too much control - they just walk all over your precious plans. It was written on the guitar. The title comes from a line in James Joyce's "Portrait of the Artist as a Young Man" (I book I really loved) - something about "A day of dappled seaborne clouds..."

Sharon created those lovely seagull sounds at the end of the recording by doing false harmonics on the 'cello. A nice little touch she came up with. John Tenney played a great solo. I recorded "Seaborne" with my late 60s Martin D -41, a fine acoustic guitar I've had for 30 years.

Regarding my mandolin playing, I haven't played much mandolin since the late 80s. I play mostly guitar these days, either that Martin or my Ransom Strat-copy electric. I'm currently building a new website for Santa Cruz Guitars and getting an amazing acoustic guitar in trade for that.
---
Q15
Q - Tim, can you talk a little about arranging? Is it more difficult to arrange for strings? How do you approach arranging the voices? Do you write out all the parts, or is there some improvision that goes on?

A - I wrote out all my arrangements. They always got modified at the rehearsal stage, but I pretty much knew what I wanted to hear when I presented pieces to the band. I learned to arrange by doing it, the same way I learned notation. All the musicians in the TWG, except Bob Alekno, were conservatory-trained musicians and they always let me know when I'd made a notation error, usually by pointing it out and making fun of it. I developed a very thick skin working with those musicians, but it was a great education. It's sort of weird that after writing and arranging music for 15 years, I went to college and got a degree in music composition, graduating in 1992. The desire to "get under the hood" had finally been too much. Ironically, I got totally involved in MIDI during the college stint and mostly did that until the Web biz eclipsed the pursuit of music.

Anyway, it's pretty obvious when you listen to the music we recorded which parts are arranged and which are improvised. If it sounds like a solo, it probably is one.

Arranging for strings was my pleasure. There were certain "moves" that I utilized more frequently because I love the sound - one is having the 'cello and the violin play in unison, with a 2-octave spread. It makes the melody sound so, um, fat. To my ears, simply harmonizing a melody in thirds or whatever was no big deal and I always tried to "dress up" melodies in some other way, although I did harmonize a fair amount of them in thirds, when I couldn't think of something more interesting to do. Much more interesting to create counterpoint to a melody, to create density.
---
Q16
Q - It's great to have you with us, Tim. I remember my excitement the first time I heard the Tim Ware Band album: in that time in the 70s, it was clear that you were pushing the envelope for the mandolin, beyond even where David Grisman was going.

I want to ask you about composing and arranging. Any ideas on your composing habits? And then when you arrange for the other instruments, is that something you work out on paper, in your head, or with the band?

I don't know if you remember, but I did some proofreading of the music from your first two albums. Any word on when that music will be available? It sure was exciting to read those songs! And another p.s--do you have any word on one Iguana Perez? That picture in Mandolin World News was funny, cool, scary, peyote comment aside! [John Bird]

A - I think I've answered this above, but to answer John Bird, who did an excellent job proofreading the scores I had a music notator prepare from my original parts, Yes, John, all the scores are available on the TWG website (http:// www.hyperarts.com/twg/).

And thanks for inquiring after Mr Perez. He's currently living a fairly pleasant life in a community of peyote eaters near Sedona in Arizona. He did a bit of genealogical research beginning in the late-80s and discovered that he was a Hopi-Zuni hybrid. This caused him to reevaluate his life, something he'd never been fond of doing. He's lost most of his hair, but not on his head. He keeps an open mind, only looks back using mirrors, and keeps his ear to the ground. He is an ardent High Llamas fan. He still thinks Brian Wilson is god with a small "g"...

Mr Perez also wishes me to pass along that he stands solidly behind the comments he made in that Mandolin World News article all those many years ago. He'd be more specific, but details are sometimes such a bother, as we all know...